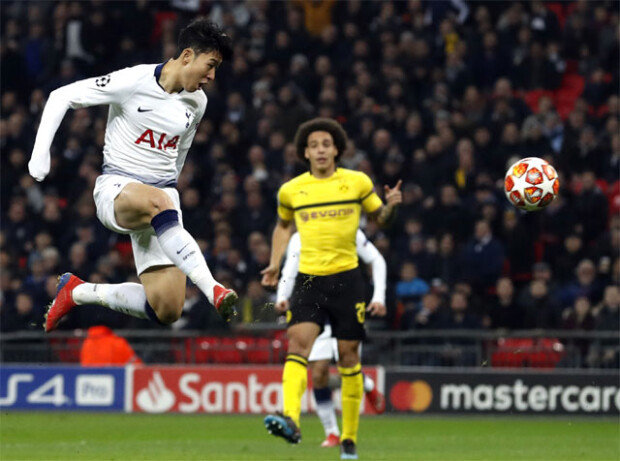 "Next time when Son scores, I go to the dressing-room, shower, and wait for the game."
For Tottenham Hotspur manager Mauricio Pochettino, Son Heung-min, the South Korean forward of the team, has become something of a harbinger of victory. The Argentine head coach of the EPL club, has developed an unwavering trust that his team will win any match so long as Son manages to find the net.
On Thursday, Son netted an opener for Tottenham in the first leg of the last-16 tie against Borussia Dortmund, which took place at Wembley Stadium in London, making key contributions to Spurs' 3-0 victory against their German competitors. Dortmund is one of the stronger favorites for Champions League, currently leading the Bundesliga table. Having smashed BVB at home, Tottenham are visiting Dortmund on March 6 for the second leg of the games.
Hired as forward for the day, Son collected a precision cross from Jan Vertonghen in the second minute of the latter half to volley an opener inside the goalposts for the hosts. The opener marked Son's 16th goal this season, and the first for the Champions League.
Son boasted outstanding performance against Dortmund, befitting his reputation as "beekeeper," a nickname fans gave him for his predatory plays against the German club, which is dubbed the "Honey Bees Army" for their yellow and black jersey stripes.
Including the Thursday match, Son has scored nine goals against Dortmund in 11 appearances. "I've scored another goal from Dortmund, but it's all in the past," said the South Korean footballer in an interview. "I will try to show good performance with any other team in future games."
A keen attention is being paid to whether Son will be able to keep goalscoring streak and break the record that he set as the most prolific Korean scorer in European football leagues - Son scored 21 goals for Spurs in 2016-2017 season. Having found the net 16 times this season, Son has 12 matches left in his regular season fixtures alone.
Yun-Cheol Jeong trigger@donga.com