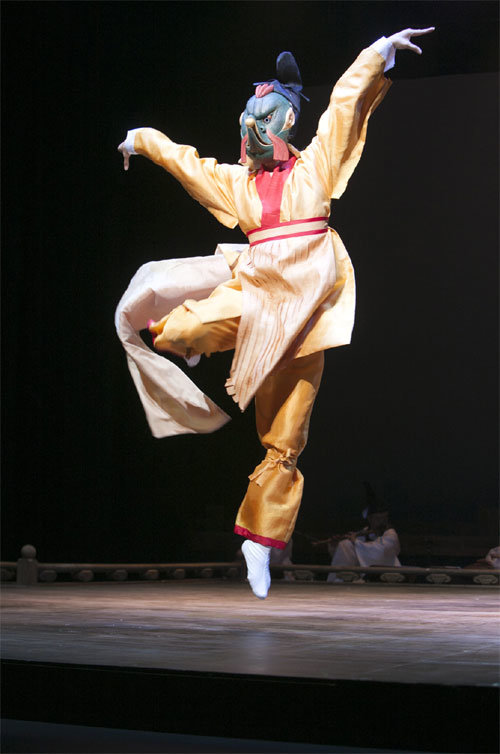 At 7:30 p.m. on Monday, a joint performance titled "Together: Finding the origin of Korea-Japan exchange" will be held at the grand theatre of Chung-Ang University Art Center by Korea Japan Cultural Exchange Council. Marking the seventh iteration, the show will present traditional dancing performance from both Korea and Japan, in honor of the 20th anniversary of the proclamation of partnership of former South Korean President Kim Dae-jung and former Japanese Prime Minister Keizo Obuchi.
The first half of the show directed by Kook Soo-ho, the head of Didim Dance Company, will present parts of Bongsan Talchum, a traditional Korean dance performed with a mask on, such as Nojang-chum, Miyal Halmi-chum, as well as Saja-chum. The show will also feature the performance of traditional musical instruments such as daegeum and haegeum, referring to a Korean transverse flute and a string instrument, respectively. Japanese delegates will show a silent masked drama performance called Gigaku. A dance show characteristics of a traditional march performance will be presented along with an angry lion performance.
The second bit of the show, which will be directed by Professor Goji Sato of Japan, will present a court dance and music called "Nasori," depicting an exciting dancing of two dragons. A mythical creature called "Garuda," whose origins began in India before settling in Japan, will also be manifested in the form of a new dance. The concert will also showcase a "Nogaku" show, a cross between a traditional Japanese masque called "No" and a prototypical Japanese comedy called "Gyogen."
A Korean classical music band "Tago" will celebrate the show with a special performance. Sponsored by the South Korean Ministry of Culture, Sports, and Tourism and the Japanese Embassy in Korea, the show will offer free admissions.
Kyu-Jin Shin newjin@donga.com