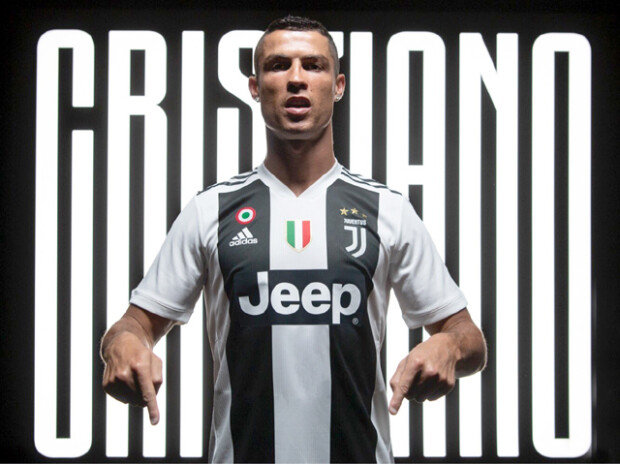 When Cristiano Ronaldo arrived at Juventus' Allianz Stadium in Torino, Italia for a medical test, hundreds of Juventus fans gathered in front of the stadium to greet Ronaldo. "Ronaldo! Bring us the UEFA Champions League trophy!" chanted fans holding a large banner with Ronaldo's uniform and face on it.
The 33-year-old star forward has won four UEFA Champions Leagues since he moved to Real Madrid in 2009. The five-time winner of Ballon d'Or, an award given to the best football player in the world, moved to Juventus after the 2018 World Cup Russia. According to The Associated Press, Juventus signed Ronaldo for a transfer fee of 112 million euros (approx. 147.8 billion won).
"With all due respect, usually players of my age go to Qatar or China, so coming to such an outstanding club at this stage in my career makes me very happy," Ronaldo said. More and more players in Europe are moving to clubs in lower-level leagues in China and the Middle East for a higher annual salary and transfer fee. According to Spanish media, a Chinese club offered 200 million euros (approx. 263.8 billion won) in transfer fee to bring Ronaldo. But Ronaldo decided to continue his career in Europe to accomplish a new goal.
"I'm not here on holiday. We are going to fight, not only for the Champions League also for Serie A and all the other titles," Ronaldo said. Although Juventus is considered the strongest team in Serie A, the last time it won the UEFA Champions League was in 1996.
Ronaldo is maintaining his skills by pushing through a tough workout. Ronaldo, whose biological age is 23, has been doing weight training for three to four hours a day for at least five days a week for more than 10 years to increase his speed and strength. "I'm a man who enjoys challenge," he said. "I won't be content with past successes. I must focus on my new challenge. I will try to show Italy that I'm still a top player."
Yun-Cheol Jeong trigger@donga.com · Jae-Hyeng Kim monami@donga.com