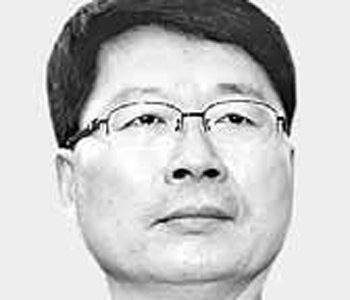 An appeals court found Oh Byeong-yun, a former lawmaker of the minor opposition Unified Progressive Party, guilty of receiving illegal political funds. If the ruling is finalized, Oh will not be allowed to run for public office for five years.
The Seoul High Court on Thursday sentenced Oh to a fine of 3 million won (2,736 U.S. dollars) for having received illegal political funds. On separate charges, the court also sentenced him to eight months in prison with a suspended jail sentence of two years for having concealed evidence and used unreported bank accounts to receive political funds.
The court gave separate sentences because the restriction on the right to run for public office is applied only to the charge of illegal political funds but not to the use of unreported bank accounts. Those who are sentenced to a fine of 1 million won (912 dollars) for receiving illegal political funds are banned from running for public office.
Oh was indicted for having received 740 million won (675,182 dollars) in illegal funds from dozens of labor unions, while serving as a secretary general for the former Democratic Labor Party between 2008 and 2010 and 9.1 billion won (8.3 million dollars) from non-party member teachers and government employees through bank accounts, which were not reported to the National Election Commission.
The court said that Oh was highly reproachable because he had received large amounts of political funds in illegal manners even though he was responsible for transparent management of his party's funds. Regarding the charge of concealing evidence of which a lower court found him not guilty, the higher court found him guilty of obstructing justice by concealing evidence at a time when a police search was expected. Oh said he would appeal to the Supreme Court.