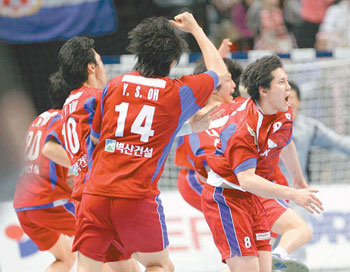 The national men`s handball team was rated the weakest in Korean history, but overcame its flaws with determination.
Korea advanced to the second round of the world championships for the first time in eight years with a 24-23 win against Spain at the Spaladium Arena in Croatia.
Oh Yun-suk scored six goals, including one to give Korea a two-point lead with just a minute left, and teammate Lee Jae-woo added five.
Korea also broke an eight-game losing streak against Spain despite not having key players from the Beijing Olympics.
Korea has beaten Kuwait, Cuba and Spain in its three-game winning streak.
In the Spain game, Korea took the lead early. Park Jung-gyu (four goals) got a two-minute penalty in the first half, allowing Spain to take the lead at halftime, 14-15. With the score tied 22-22 late in the second half, Oh scored two goals to seal the win.
Korea will join the second round of 12 next week and face Slovakia, France and Hungary.
creating@donga.com