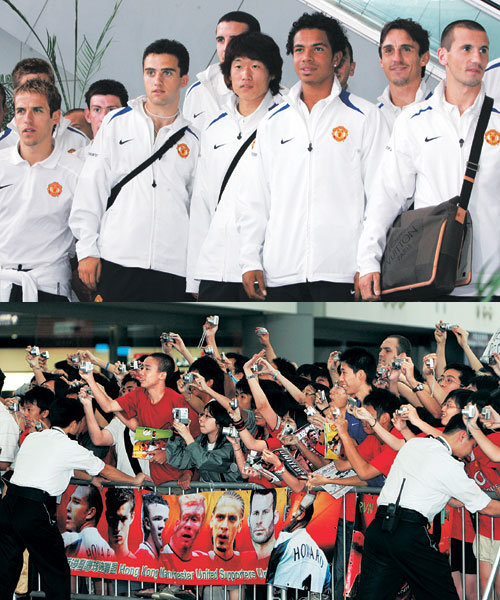 "Park Ji-sung! Park Ji-sung!"
People started to chant his name at Hong Kong International Airport on the afternoon of July 22 as Premier Leaguer Park Ji-sung, a Manchester United FC player, appeared at the airport entrance.
Hong Kong, the first stop on the club`s Asia Tour 2005, is now filled with soccer fever. Park, who appeared among about 30 team members, looked a little tense, but he started to give spectators his autographs on their uniforms, showing his adapted manner as a big league player.
Katie Lung, a 26 Hong Kong native who arrived at the airport at 7:00 a.m. to take a look at Park, said that she was so fascinated by Park and the Korean National Team at the 2002 World Cup that she learned Korean at a language school and has even visited Korea twice since then. Wearing Park`s No. 21 Korean national team uniform at the World Cup, Katie continued, "Park attracts me because he works very hard to be the best."
Park was at the center of media attention at a press conference held at the Grand Hyatt Hotel at 3:00 p.m.
Alex Ferguson, the head coach of the club, praised Park, saying, "After watching the two games in which Park played, I am impressed with his moves. I do not think his English is bad, but if he studies a little more, he will not have any problems communicating with his colleagues." He added that Park will play 45 minutes in the game either in the first or second half, just like he did in the club's two previous exhibition games.
Ryan Giggs, one of the team`s franchise players, said that he is glad to start the season competing with such a good young player like Park.
Park, who did not appear at the press conference, met with Korean reporters and said, "The two games in England were against weak teams so I could not fully display what I really am," and added that he is simply going to enjoy the games before he can fully adapt himself to the club.
Manchester United's Asia Tour 2005 game against the Hong Kong National Team will be broadcast at 4:50 p.m. on July 23 on the SBS Sports channel.
Jae-Yun Jung jaeyuna@donga.com