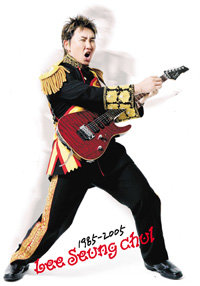 "On December 31, 2004, I was on the stage of the MBC Top Ten Singer Award for the first time. But the MC said, 'The average age of all the singers here is 23.17 years.' Huh! The gap between the average age and mine is almost 20 years. My children would be that age if I had any." (excerpt from Lee Seung-cheol's web site, Biography).
Last year, singer Lee Seung-cheol (40, in the picture) participated in the Music Award held by three major broadcasting companies for the first time in 19 years after his debut. However, the touching moment did not last long. He felt "pretty old" when he saw idol Dongbangsingi. Lee Seung-cheol, who was once a "fair-faced young rocker," is now a middle-aged man with a beer belly. In May 2005, he appeared before us with an album named "Work to Remember" to celebrate the 20th anniversary of his debut.
Twenty years as a singer, "Now, I think I know songs."
"I believe I am a lucky guy. Popularity is not something that can be achieved only with my own efforts. 'A lucky entertainer..' That may be a reflection of myself over the past 20 years." Lee Seong-cheol was unexpectedly modest when we met him at a recording room in Gangnam on April 25. This guy, who is always lavished praises such as "the best singer" and "the emperor of the live songs," began to tell a story about "luck" in response to the question asking his feelings about the 20th year anniversary of his debut.
"I won the number one spot on the list of a music program, 19 years since my debut, with the title song of the 7th album, 'A Long Day",' last year. In 2001, I released the album 'Never Ending Story' to mark the 15th anniversary of my music group Boohwal (Resurrection). I told my members, "I will give a piggyback ride to you if the album sells more than 100,000" because I did not expect the album to be that successful. Surprisingly enough, the album sold more than 300,000 copies. I realized that there is something more than ability and efforts in success. I think that is luck."
Lee Seung-cheol has released more than 20 albums including live albums and edited albums since he first appeared in public as the lead vocal of rock group Boohwal in 1985. He became a popular singer welcomed by both critics and the public in various genres, ranging from rock ballad songs like "Heeya" and "Wandering," to dance music such as "Today Again, I," and to jazz songs like "Secret in the Color."
"If I expressed a crying Lee Seung-cheol in the past, now I sing with a moderate sadness. I think now I know how to sing."
The 20th year since my debut, "I experienced both parties and being an emperor."
Lee Seung-cheol did a "fashion show" for the 20th anniversary album and nationwide tour concerts. The concept of the album, which is scheduled to be released in late May, is "The Party." He wore a tuxedo and opened a bottle of champagne for the album cover. Also, he took pictures for the concert poster by wearing an emperor's costume in line with the group's name, "Lee Seung-cheol with the Emperor."
"In fact, I cannot sense the actual feeling of my 20th anniversary. Senior singer Jo Yong-pil also said he could not feel it actually when he faced his 35th anniversary, and I feel the same. Instead, people close to me are extremely excited."
The 20th anniversary album of Lee Seong-cheol includes a total of seven songs ranging from ballad songs such as "Please Count Ten" and "Because of the Memories," to four new songs like "Afternoon after Rain" written by Bosanova, and to remake songs such as Kim Hyun-sik's "Like Rain and Like Music," Lee Moon-se's "Standing under the Shadow of Roadside Trees," and Yang Hee-sun's "Hangyeryoung."
"I made the album with a sense of wetness and comport. I hummed while drinking vodka. I sometimes fell asleep while writing a song."
He is planning a nationwide tour with concerts in 20 cities starting from Gumi on May 28 to Cheonan, Ansan, and Seoul until February of next year. He is still "the emperor of the stage" even though 20 years have passed since his debut.
bsism@donga.com