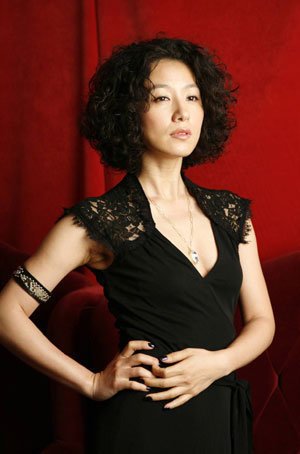 "A woman's heart can be stolen and mine is no exception. I think love is not somebody's exclusive property," Kim Hee-ae said.
Kim starring in the SBS drama "My Man's Woman" as Lee Hwa-young, a woman who doesn't feel guilty even after stealing a friend's husband, is no longer the person she used to be. Kim has always played the character of a married woman who loses her husband to another woman in dramas such as "My Precious Family" and "Snowflake." However, her character in the new drama is quite the opposite. "My eyes are beginning to resemble those of Hwa-young which are filled with love and jealousy," Kim said on Wednesday during an interview.
"The life of Kim Ji-soo in the drama and that of mine are very similar. Sometimes I have to be pretentious to be a good wife or an exemplary mother. I get vicarious satisfaction while playing Hwa-young which allows me to break the mold," Kim added.
Kim Hee-ae has been creating a sensation by showing new dimensions of herself in the drama including new hairstyles and sexy dresses. When she was first asked to appear in the drama, she had to give it much thought because the character was completely different from her. However, she couldn't afford to miss it as it was an excellent opportunity to play a completely different role. It is her first villain role since the 1993 MBC drama "Stormy Season."
"I even find my appearance in dramas boring at times. I bet viewers also find this true. As I was no longer young, I told myself that this might be my last chance to play such a role," Kim added.
In order to transform herself into a more sexy and attractive character, Kim even went overseas to look for sexy clothes in person. "These days, I have become so demanding when trimming my hair that I feel sorry for the hairdressers," Kim said. "Producer Jeong Eung-young and writer Kim Soo-hyun told me that my acting as a bad woman was 'disappointing' during the first script rehearsal. The incident helped me remove the existing image of Kim Hee-ae even more meticulously," Kim added.
"There is a line in the drama, 'Love that deserves death by stoning.' I feel the same when I watch the drama from a viewer's perspective. However, I can understand Hwa-young when I am on the set. The feeling of a woman wanting to keep someone that she loves makes me become oblivious to social responsibilities for 'illicit love'," Kim said.
Kim says that she watches the drama alone at home because she gets embarrassed and nervous when watching it with her family. "My children do not like my changed hairstyle and character," Kim said with a smile.
Although she has been recognized as a top actress in Korea, she says that she is not yet satisfied. "When I was filming a scene of the third episode where I secretly meet Hong Joon-pyo in a hotel, I almost cried because I was so upset about my inability to candidly express my feelings," Kim said.
In the drama, Hwa-young asks Ji-soo if she is happy and Ji-soo replies, "I feel comfortable." Kim Hee-ae was asked if she was happy or comfortable.
"Comfortable. I feel comfortable rather than happy when all my family members idly watch a movie together in the living room after my children finish their homework and my husband returns home from work," Kim replied.
surreal@donga.com