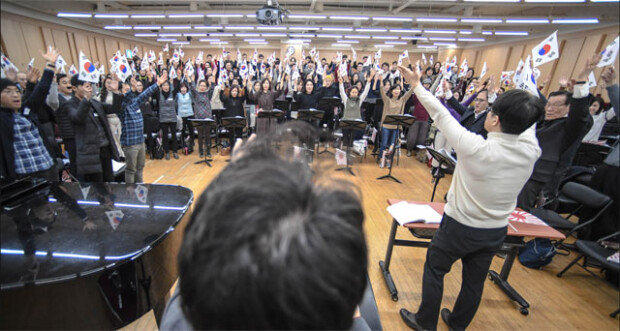 The practice room of Seoul Camerata Vocale at the Arts Hall of Sejong Center for the Performing Arts in Jongno District, Seoul, became a forest of the Taegeukgi, national flag of Korea, on Monday evening.
This is the practice site for the "Yoo Gwan-sun Opera Cantata" that will be held in the Grand Theater of Sejong Center for the Performing Arts at 5:00 p.m. on March 2 in commemoration of the 100th anniversary of the March 1st Movement. Eighty members of the citizens' choir, selected from auditions last month, will be also participating at the performance, and they met with the Seoul Camerata Vocale, who are professionals, for the first time on Monday evening.
"Now, citizens and police officers go their separate ways. Spread your hand to the front when the melody goes up with 'Hurray! Independence of Korea!' and pull down your arms when the melody goes down," instructed Lee Yong-joo, who created the music.
Seoul Camerata Vocale's art director Kang Gi-seong, who conducted the opera, elaborated the rhythm and dynamics, swinging his baton behind. The Monday practice was over after soprano Seo Seon-yeong, who will be performing Yoo Gwan-sun, sung "Even if my ears and hands are cut off and broken, I cannot accept the trampled reality of losing my own country," with the choir humming together. Tears sprang into the eyes of the citizens' choir members.
This work starts with a prelude, depicting the short yet fervent life of Yoo Gwan-sun (1902-1920) in the form of music from the image of her praying at the chapel of Maebong Church to the funeral at Jeongdong Church. The choir was set in the middle of the stage and performers for Yoo Gwan-sun and Japanese police in the front.
"If was a history I wanted to forget because it was sad and frustrating. But it is true that the noble sacrifice of our ancestors allowed us to live in pride today," said Seo. "I am practicing hard, but it is not easy as it incorporates both shouting and singing."
Art director Kang Gi-seong said "I planned this work to make a performance to meditate upon the noble meaning of the 100th anniversary of the March 1st movement today immediately after I was inaugurated." Composer Lee Yong-joo, in charge of songwriting and performance, wrote opera musicals such as "Yoon Dong-joo" and "The Story of Ihwa," an opera about comport women.
"The song I created this time can be successfully sung by anyone who has passion in singing," said Mr. Kang. "With many theatrical elements, such a dramatic music could have been made."
"I came to participate in this performance after seeing the audition notice while contemplating on modern history after reading writer Park Kyung-ni's Toji," said Yoo Seung-wan (age 45), a citizens' choir member.
"I was selected to play a Japanese policeman, which is more meaningful," Cho Jeong-sook (age 57), who joined the choir with the recommendation of her college choir colleague, remarked with a smile. "Practicing in Gwanghwamun after work has become a daily happiness. I am often surprised to see how professional our choir team could be even though it is an amateur choir."
gustav@donga.com