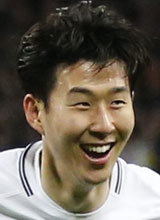 The transfer value of Tottenham Hotspur's Son Heung-min of (age 26, photo), who is just one goal away of scoring 100 goals in playing for the European professional league, has increased by nearly 30 billion won this year alone.
According to a recent analysis done by CIES football research institute under FIFA, Son's transfer value stood at 90.1 million euros (some 113.7 billion won) as of this month.
Son's transfer value, which stood at 66.8 million euros (some 84.3 billion won) in December last year, has steadily increased this year, helped by Son's winning performance in the Russian World Cup and the Asian Games in Jakarta-Palembang. His value even briefly soared to 102.3 million euros (some 129.1 billion won) when he was exempted from military conscription by winning a gold medal in the Asian Games in September. He grew more expensive when it was confirmed that he would be able to continue his career in Europe.
CIES measures the transfer value of football players on a monthly basis given each players' performance, age, position and contract period. As of December, the transfer value of Tottenham's Harry Kane (age 25) was 199 million euros (about 251.2 billion won), followed by Lionel Messi (age 31) of FC Barcelona at 165.3 million euros (208.6 billion won) and Cristiano Ronaldo (age 33) of Juventus at 125.2 million euros (some 158 billion won).
Hong-Gu Kang windup@donga.com