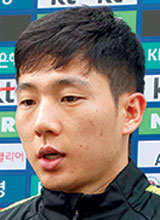 Nam Tae-hee of South Korean football team will miss the upcoming Asian Cup due to a torn anterior cruciate ligament (ACL). The South Korean attacking midfielder recorded an opening goal with a picturesque volley shoot at 9 minutes into the first half of the friendly match with Uzbekistan on Tuesday. Although Nam opened up South Korea's 4-0 win over Uzbekistan, he was taken out of the field 7 minutes into the second half of the game due to pains in his knee.
According to a local hospital in Australia, Nam Tae-hee has a torn ACL in his right knee. The medical team believes that it is expected to take at least more than six months of treatment," said the Korea Football Association on Thursday. A magnetic resonance imaging test was performed on Nam at a local hospital on Wednesday and the player's injury was delivered to head coach Paulo Bento on that day at night.
Accordingly, Nam will not be able to participate in the Asian Cup, which will be held in the United Arab Emirates in January next year. Without Nam, who has outstanding scoring ability and breakthrough power, the National team's attacking line has a hole. He was a key attacking midfielder with Ki Sung-yueng (New Castle) and Jung Woo-young (Al-Sadd), elected to participate in all six of A matches the National Team ever since Bento was appointed as the coach. Since coach Bento lead the team, he scored the second most goals (two goals), following Hwang Ui-jo (three goals).
The head coach appears to be focusing on finding a player who can substitute Nam with some 40 days left until the opening of the Asia Cup. As of now, Hwang In-beom (Daejeon) and Koo Ja-cheol (Augsburg), who made their presence at the friendly match in Australia, are raised up as candidates. "The team of coaches for the Asian Cup will naturally find a way to substitute the vacancy of Nam Tae-hee through meetings," said an official from the Korea Football Association.
Meanwhile, Nam is known to be back to his Qatari club Al-Duhail, and coordinating surgery schedule with his team.
Jae-Hyeng Kim monami@donga.com