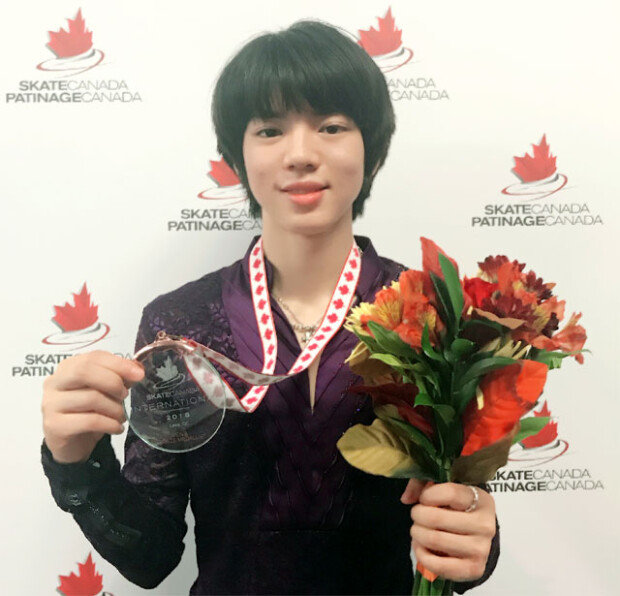 Cha Jun-hwan earned 165.91 points at the free skating at the Canada 2018, the second ISU Grand Prix held on Sunday in Laval, Quebec, Canada, making his total score 254.77, with 88.86 recorded at the short program. The Korean figure skater ranked third following Shoma UNO with 277.25, and Keegan Messing with 265.17.
Cha, thus, become the first-ever Korean male figure skater who won a medal at the ISU Grand Prix series. Even including the female athletes, it has been nine years since Figure Skating Queen Kim Yuna won a medal in November 2009. Although Cha was not able to break his highest record of 259.78, made at the Autumn Classic in September – 90.56 at the short program and 169.22 at the free skating, he made an achievement to win the first-ever medal at one of the Grand Prix competitions.
In his free skating program according to a song from the 'Romeo and Juliet' OST album, he failed to make a quadruple toe loop jump, which was soon overtaken by his success with a quadruple salchow that allowed him to get back on the pace with a GOE of 3.33. On that day, he successfully did a quadruple salchow that he had failed to make perfect due to the incomplete number of turns in the previous two Challenger series competitions.
The young Korean skater said in an interview that he did his best and was satisfied with the results. In the upcoming third Grand Prix scheduled between Nov. 2 and 4 in Finland, he will hunt for another medal.
Hong-Gu Kang windup@donga.com