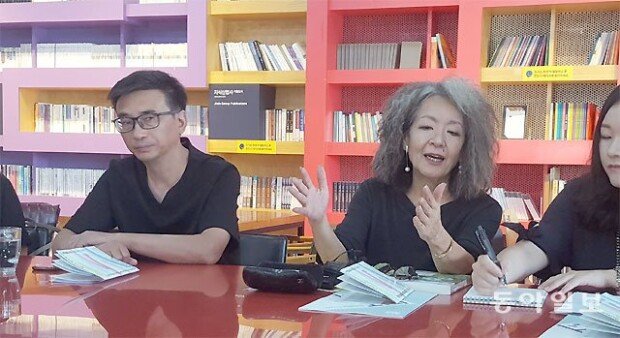 "China's rich history comes from the rural culture. Forty years since China's reform and opening policy, we have experienced population decline in rural villages due to urbanization. Ancient schools have been destroyed by war and disasters. I wish to help intellectuals return to rural villages, develop culture and rebuild the rural community," said Chen Xiao-hua (aged 54), who runs Shen Fung Book Store, a leading private book store in Nanking, China, at the Paju Book City International Publication Forum on Friday. The forum, has been held in connection with the Paju Booksori Festival, was held from Friday to Sunday in Paju City of Gyeonggi Province.
Shen Fung Book Store has been chosen several occasions as a beautiful book store by various media channels. It started as a small store with just 17m² in 1996, but recently opened its 14th store. The Chinese bookstore has branches in remote areas and minority regions across the nation.
Chen explained that new book stores are opening almost every day in China, and growing in quality as well. The Chinese government is promoting a campaign on reading and provides policy support for opening book stores. He stressed that book stores should be the home of wanderers looking for emotional refuge.
The forum was also attended by Keiko Ochiai (aged 73), who runs Crayon House, a children's bookstore in Tokyo and Osaka in Japan. Crayon House, which opened in 1976, refuses to stock books that it considers as less good, even if they are bestsellers. It displays books for prolonged periods, even if they don't sell well. It sells books on feminism and peace as well. It always makes the list of "must-go bookstores in Japan" for travelers.
"I hope that Crayon House can be a place where we can help ethnic minorities and women to voice their opinions, see how special they are and share views," said Ochiai, who is also an anti-war and anti-discrimination activist.
"It has never been done (laugh). For 42 years, I have paid for losses by earning money from other channels (writing essays)," she said when asked how she balances the bookstore goals and stable business. "I hope that the bookstore will serve as a place where we continue to think about the existence of children's books."
Jong-Yeob JO jjj@donga.com