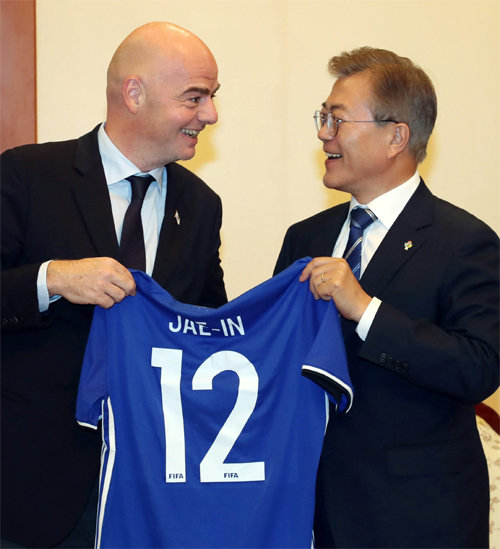 President Moon Jae-in, who will visit Russia for his four-day state visit from Thursday, will attend a World Cup match and cheer for the Korean national football team. It is the first time for an incumbent president to attend a match and cheer for the national team abroad.
As the last leg of the trip, President Moon will attend the second round of the Group F league between Korea and Mexico, which will be held in Roston-on-Don of Russia on Sunday 12:00 a.m. (local time). "We have strong expectations for winning the match with Mexico, after losing in the first match (with Sweden)," said Moon in a joint interview with the Russian press on Wednesday. "I hope that both Korea and Russia will do well."
Busy preparations are underway for Korean fans in Russia to welcome President Moon. Fans are determined not to be disheartened by the massive number of Mexican fans. According to the Korean Embassy in Russia, some 100 Korean residents in Moscow have organized a supporting group and headed for Roston-on-Don, where very few Koreans, including missionaries, live. "We may not be large in number, but we will do our best with the Arirang Supporting Group from Korea," said Kwon Soon-geon, the leader of the local Korean supporting group.
Jong-Koo Yang yjongk@donga.com · Heon-Jae Lee uni@donga.com