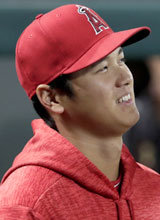 The Los Angeles Angels can't hide its excitement these days for having signed the Japanese two-way player Shohei Ohtani.
Ohtani, who played in the Nippon-Ham Fighters of Japan's Nippon Professional Baseball (NPB) until last year, is likewise sensational in Major League Baseball (MLB), the biggest stage for baseball in the world. The 23-year-old player is a force to be reckoned with, boasting a batting average of 0.389 (8-for-18), 3 home runs, seven RBIs, and a 1.310 OPS in four games as of Tuesday. In two starts as a pitcher, he is 2-0 with a 2.08 earned-run average.
The American League Player of the Week announced Monday was awarded to Ohtani to no one's surprise. MLB.com, the official website for MLB, raved about him saying that Ohtani has shown remarkable play as a two-way athlete, which exceeds expectations.
Ohtani's salary is unfittingly low for his phenomenal play. According to rules of the MLB-NPB posting system (blind bid system), newly revised at the end of last year, Ohtani receives the MLB minimum salary of 545,000 dollars. He can only receive up to 2,315,000 dollars in international bonus money as well. It falls far short of the seven-year, 155 million dollar contract that the Japanese pitcher Masahiro Tanaka signed with the New York Yankees through the posting system in early 2014. One may even say that the Angels won the jackpot with Ohtani.
Heon-Jae Lee uni@donga.com