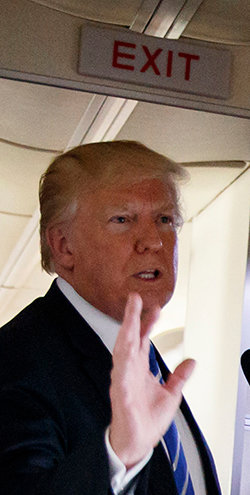 U.S. President Donald Trump said on Thursday (local time) that he instructed his administration to consider 100 billion U.S. dollars in additional tariffs against China. This announcement comes shortly after China said in response to Trump's trade threats, it would introduce retaliatory tariffs on more than 50 billion dollars in U.S. exports, including agricultural products.
"Rather than remedy its misconduct, China has chosen to harm our farmers and manufacturers," Trump said in a statement. ""In light of China's unfair retaliation, I have instructed the USTR to consider whether $100 billion of additional tariffs would be appropriate under section 301 and, if so, to identify the products upon which to impose such tariffs." That means Trump's proposed tariffs on Chinese goods could increase up to 150 billion dollars including tariffs on 50 billion dollars of industrial technology.
"The United States is still prepared to have discussions in further support of our commitment to achieving free, fair, and reciprocal trade and to protect the technology and intellectual property of American companies and American people," said Trump, hinting at his administration's being open to negotiation concerning China's trade practices.
This explains why Beijing postponed on Wednesday its decision to put into effect punitive 25 percent tariffs on U.S. imports that include soybeans. China's selling of U.S. Treasury bonds will bring down the value of Chinese government bonds as well, resulting in an enormous damage to China. Soybeans vs. T-bonds clearly shows that this tit-for-tat trade standoff between the United States and China is not a zero-sum game. The U.S.-Sino relationship has been so closely intertwined that it will only make this trade war difficult to predict what comes next.
Ja-Ryong Koo bonhong@donga.com · Yong Park parky@donga.com