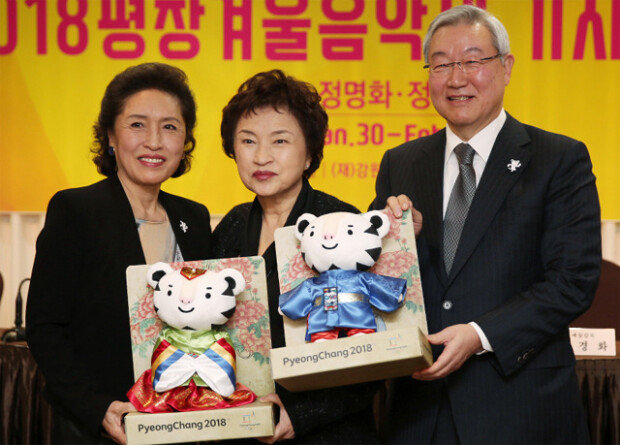 Cellist Chung Myung-wha and violinist Chung Kyung-wha will step down as artistic directors of the Pyeongchang Music Festival and the Pyeongchang Winter Music Festival, which they served for seven years.
"I felt great pride watching the Pyeongchang Music Festival grow every year," said Chung Myung-wha in a press conference in Seoul. "It has become a well-known event that many artists wish to participate. We are just thankful."
"It was a precious experience as I could appreciate that Korea has so many talented people," said Chung Kyung-wha. "I am almost 70, but I'm still aspiring to play abroad for the betterment of Korea's classic music."
The first Pyeongchang Music Festival was held in 2004, and Chung Myung-wha and Chung Kyung-wha were appointed as artistic directors in 2010. They have earned huge response for their solid programs that span across classic and modern music, where maestros and rising stars perform together.
It is uncertain whether the festival, originally incepted to promote hosting of the Winter Olympics, will continue. "The Summer Music Festival will continue as a heritage of the Olympics, but nothing has been determined for the Winter Festival," said Kim Sung-hwan, head of the Gangwon Art & Culture Foundation.
The 2018 Pyeongchang Winter Music Festival will commence on next Tuesday at the Seoul Arts Center, with world-renowned artists, including pansori singer Ahn Sook-sun, pianist Son Yeol-eum, and Spanish dancer Belen Cabanes.
Min Kim kimmin@donga.com