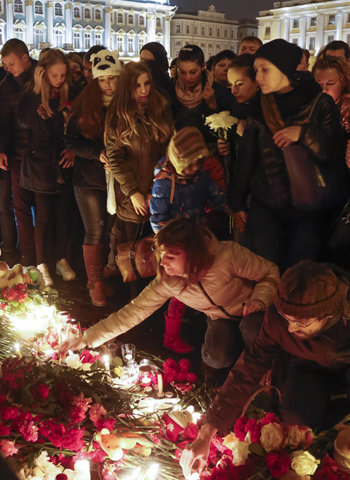 Preliminary research revealed that Russia`s Kogalymavia airline Airbus A321 that crashed on the Sinai Peninsula in Egypt fell apart in mid air. Victor Sorochenko, head of Russia's Interstate Aviation Committee, told reporters at the crash site, "It is too early to draw firm conclusions but the destruction happened in the air, and fragments were scattered over a large area of around 20 square kilometers." One unnamed official said the plane appeared to have split in two, with one part burning up and the other crashing into a rock.
CNN said the aircraft departed the Egyptian resort city of Sharm el-Sheikh at 5:51 a.m. local time on Saturday and when the airplane reached 30,100 feet altitude, it plunged by 1,500 meters per second and ultimately crashed.
Due to this preliminary result, various media raised that the possibility of "terrorist attacks" can`t be ruled out completely. The Egypt branch of the Islamic State, the radical Sunni Islamist militant group, has claimed it has shot down the plane.
However, experts weigh more on that there were problems with the plane itself. The U.K. daily Guardian said Airbus A321 had suffered a tail strike in 2001, raising the possibility of the same tail strike this time. The Wall Street Journal said a passenger airplane that was not repaired after a tail strike ran into a large accident in Japan in 1985. Most of the victims of the Kogalymavia crash were found to have been wearing safety belts, which supports the claims that the pilot in the cockpit must have sensed problems with the aircraft.
The Guardian said the Egypt authorities collected 162 dead bodies among 244 victims at the site. The Russian authorities initially sent 144 bodies on a transport plane to Pulkovo Airport in St. Petersburg. In the site laid pieces of the airplane bodies and victims` belongings including dolls, luggage and clothes.
Russia is observing four nationwide days of mourning for victims of plane crash. Russia`s Interfax news agency said Monday, "Thousands of mourners gathered at Pulkovo Airport where dead bodies arrived holding candles and paying tribute with flowers, while half-mast Russian flags were held throughout the country."
Surrounding countries including Qatar, Bahrain and Kuwait said they will change plane routes that pass the Sinai Peninsula as part of protective measures until the cause of crash is revealed.
snow@donga.com