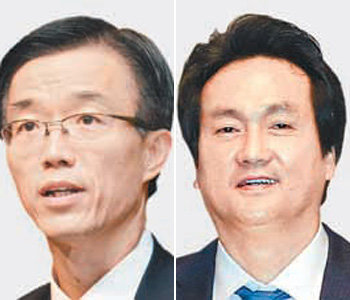 The representatives of rival parties and the administration negotiating an extra budget plan are graduates from the same high school.
Ruling Saenuri Party floor leader Won Yoo-chul, his main opposition counterpart Ahn Min-seok, and Vice Finance Minister Bahng Moon-gyu all graduated from Suseong High School in Suwon, Gyeonggi Province. Won and Bahng graduated from the school in the same year, while Ahn graduated a year later.
As the ruling party`s floor leader, Won is in charge of the overall extra budget negotiations. Ahn represents the New Politics Alliance for Democracy (NPAD), leading the negotiations and review processes for the main opposition party. Bahng is in charge of drafting the supplementary budget plan and represents the administrative branch at the National Assembly. Won and Bahng are working hand in glove in pursuing an 11.8 trillion won (10.2 billion U.S. dollars) extra budget proposal. After a high-level meeting of the Saenuri, presidential office Cheong Wa Dae and the administration agreed that the party would provide maximum support for the supplementary budget plan, Won and Bahng discussed follow-up measures at the National Assembly very late at night.
While Won and Bahng are on the defensive position for the extra budget plan, Ahn is challenging it. At a parliamentary subcommittee session on budget and accounting on Tuesday, Ahn raised issue with 5.6 trillion won (4.8 billion dollars) earmarked for filling a budgetary hole created by insufficient tax revenue. Referring to the government`s fiscal soundness, he criticized the administration for refusing to consider corporate tax increases.
In a telephone conversation with the Dong-A Ilbo on Thursday, Won said that he and Bahng have been close friends since high school days, their personal relationship helps smooth communication. The Saenuri floor leader added that he had called Ahn to ask for cooperation with the extra budget plan.
will71@donga.com