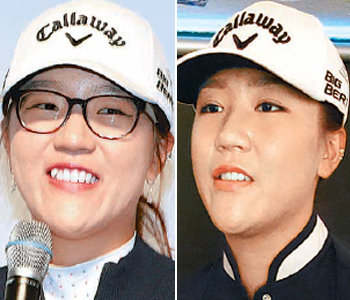 A Korean New Zealander "Golf Genius" Lydia Ko has turned 18 this year. An 18-year-old girl in New Zealand can get married without the consent from her parents and is granted political rights, meaning that she has come of age.
Lydia Ko might have wanted to prove that it is she who has come of age this time. Waiting to start her first semester in Korea University in March, Ko showed up with drastic changes in her appearance, saying good bye to her big horn-rimmed glasses, which used to make her look like an exemplary good student.
Around the end of last year when she was in Korea, the golf genius showed up wearing contact lenses. On the recently-released profile photo at Ladies Professional Golf Association (LPGA) website, she turned up with fully-fledged appearance without glasses. American golf media such as Golf Week and Gold Channel showed a strong interest in her new looks, saying that Lydia Ko has totally different looks and people may not recognize her at the tournament, which will take place at the end of this month.
The gold genius has reasons for a makeover. She had long been complaining of inconvenience from wearing glasses. A staff from IMG, Ko's management company, said that Lydia had difficulties in playing golf with wearing glasses because they rolled down her sweaty face. Her eyes got easily tired due to blazing sunshine and she had sometimes broken her glasses while practicing." Unlike Shin Ji-ae who had a refractive surgery, Ko opted for wearing contact lenses.
Having gained three wins last year, Ko had her best year in 2014 receiving LPGA tour's rookie of the year award and more than two million dollars in winner's share. Lydia is preparing for the new season with David Leadbetter, globally renowned golf coach, and will play in the Coates Golf Championship, which opens on Jan. 28.
Lydia Ko, beginning the new season as the world no. 2 player, says that "It means a lot for me to turn 18. I feel a lot of burden on my shoulder because I had a too-good-to-be-true performance last year. But I want to continue growing and developing myself. To this end, I intend to play golf in a steady and continuous manner."