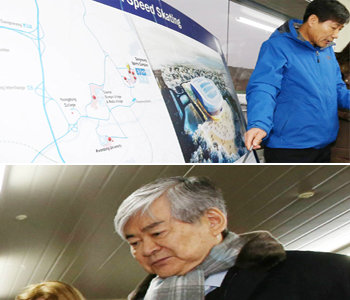 The International Olympic Committee (IOC) has given a positive assessment of South Korea's preparations for the 2018 PyeongChang Winter Olympics.
Officials from the IOC and the PyeongChang 2018 Winter Olympics Organizing Committee visited PyeongChang and Gangneung, Gangwon Province to inspect the preparations and the construction of an ice arena, an ice hockey center and a sliding center.
About 50 people, including the organising committee`s president Cho Yang-ho and IOC Coordination Commission Chair Gunilla Lindberg attended the fourth round of the IOC Project Review of PyeongChang, which is underway from Thursday.
Regarding the ice arena to be used for figure skating and short track competitions, Lindberg expressed optimism for the progress in the construction work. The construction of the sliding center in PyeongChang has also progressed about 20 percent with a goal of course completion by the end of this year. IOC officials meticulously checked the blueprints for each gyms and asked questions about human traffic and ways to utilize the facilities after the Winter Olympics are over.
The inspection of an ice hockey center was conducted behind closed doors for over 20 minutes. There were controversies over whether to move the ice hockey center from Gangneung to Wonju.
Cho reportedly told the IOC inspectors that there is no point of discussing co-hosting of the Olympics with other country. An official at the organizing committee said, "We explained that the construction work was going smoothly, and the IOC inspectors showed positive reactions." The IOC delegates plan to inspect preparations for lodging and transportation on Saturday.