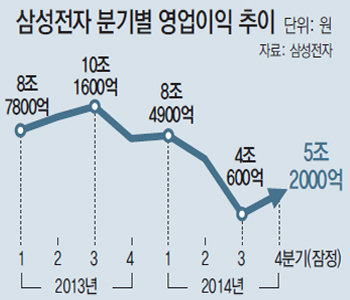 Samsung Electronics on Thursday said its operating profits for the last quarter of 2014 amounted to 5.2 trillion won (4.7 billion U.S. dollars), which is a 28 percent increase but a 37.4 percent decrease year-on-year.
There were concerns over Samsung's earnings drop after its operating profits fell below the 5 trillion won (4.5 billion dollars) mark in the third quarter of 2014 for the first time in three years. The quarterly rebound in operating profits in the fourth quarter was higher than market expectations, suggesting that the company is over the hump for now. However, some analysts say that it is early for the company to feel relieved because the fourth quarter was a shopping season. Samsung remains tense internally, as its earnings performance in the first quarter of this year would really show whether the company had a successful rebound.
"There are concerns that if our operating profit falls below 5 trillion won again in the first quarter, we could suffer from an L-shaped slump, failing to make a V-shaped rebound," a senior Samsung official said. "Although the first quarter is traditionally a low season, we pin our hopes on new smartphone models and semiconductors."
Semiconductor products led Samsung's fourth-quarter performance last year, following the third quarter. Amid a booming market, earnings from DRAM, or dynamic random access memory, chips improved, and Samsung`s System LSI (large-scale integration) Division significantly reduced losses.