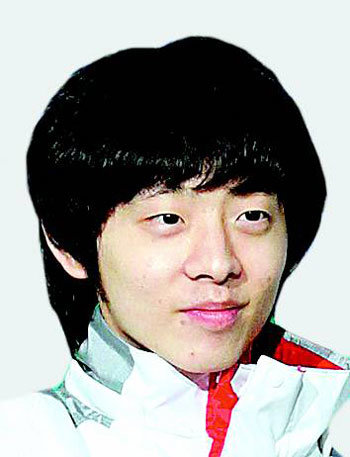 Short-track speed skater Lee Jung-su is presumed to have been pressured by an assistant coach to drop out of the world championships last month.
The Korean Olympic Committee announced the results of a probe into Lee's absence at the competition and urged the Korea Skating Union to conduct its own investigation and mete out punishment. The committee also urged the union to report implicated figures to police and devise measures to prevent a recurrence within a month if an investigation is impossible.
Lee won two gold medals in the Vancouver Winter Olympics, but dropped out of the world championships in Sofia, Bulgaria, citing an ankle injury.
Controversy erupted after Ahn Ki-won, the father of three-time Olympic gold medalist Ahn Hyun-soo, posted on the Web, "Lee missed the event not because of injury but because of corruption in the Korea Skating Union."
The allegation prompted the Olympic committee to investigate. It questioned Lee, fellow skater Kim Sung-il, head coach Kim Ki-hoon, assistant coach Chun Jae-mok, and other union officials.
Lee Jung-su and Kim Sung-il said in the investigation that they wrote down what Chun dictated in a letter explaining the reason for their absence at the world championships under "an oppressive atmosphere."
"Chun wasn't the only person who put the pressure on me. Senior (union) officials must have been involved," Lee Jung-su said.
Chun denied the allegation, however, saying, "They voluntarily dropped out of the competition. I was only trying to help them write the letter because they didn't know what to write." The Olympic committee said, however, "Chun is assumed to have ordered Lee Jung-su and Kim to drop out of the event to help Kwak Yoon-gy earn a medal in the world championships based on an agreement made earlier in the national team trials."
The content of the "agreement" made at the team trials held in April last year for the Winter Olympics is considered shocking. Shortly before the 3,000-meter super finals, the last event of the team trials, certain coaches and athletes are alleged to have agreed to help each other make the national team, and then take turns winning medals at international meets. If this is confirmed, this could mean that the results of the team trials were manipulated.
creating@donga.com