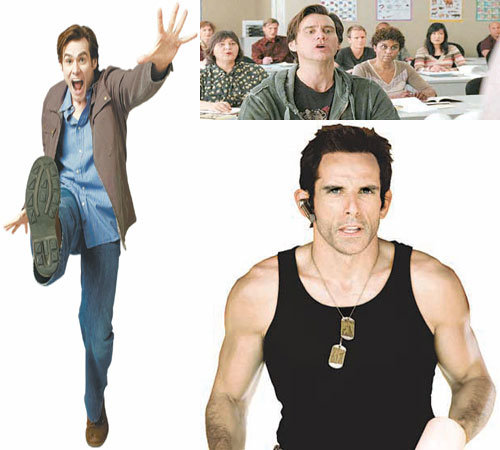 College student Kim Ji-eun, 24, said she was attracted by the tagline of the movie "Tropic Thunder": "Do you want to laugh to death?" After seeing the movie in Seoul over the weekend, she said, "I almost dozed to death."
Kim said she could not understand the man in front of her who laughed endlessly throughout the movie.
No comedy makes all people laugh. Two Hollywood comedies to hit the Korean market are no exception. Both "Yes Man," which will be released tomorrow, and "Tropic Thunder," which was released last week, have received mixed reviews in Korea.
This is because of the contrasting styles of the main actors Jim Carrey and Ben Stiller.
"Yes Man" is a comedy redux about a man with a personality defect who takes a step forward to become happy. The movie is similar to two other Carrey movies "Liar Liar" and "Bruce Almighty."
Carl Allen (Jim Carrey), a bank loan officer, got divorced three years ago. Being depressed and isolating himself from the world, he shuns meeting old friends or women. After his friend asks Allen, "Are you gonna live alone forever," he joins a self-help seminar and turns into a man who says "yes" to everything.
The movie is based on the memoir of former BBC producer Danny Wallace, who wallowed in self-pity after a breakup and decided to say "yes" to everything for six months. Carrey's outstanding character adds liveliness to the storyline. His diverse facial expressions, though not as powerful as "Ace Ventura" and "The Mask" 14 years ago, remain impressive.
The movie is good for laughs and fun, but those bored of the cliché heartwarming story could yawn.
For superhero fans, pay attention to the old lecturer who says "Say 'yes' with a positive mind." He is played by actor Terence Stamp, who played the villain General Zod in "Superman II" in 1980.
Ben Stiller's "Tropic Thunder" is full of ridicule, poking fun of Hollywood war films that repeat the same theme over and over again.
The film parodies the scene where Elias (William Dafoe) dies stretching his arm to the sky in "Platoon," and makes fun of classic war movies like "Apocalypse Now," "Black Hawk Down" and "Saving Private Ryan."
In a recent interview, Stiller said, "It was so funny that actors talked as if they were war heroes when they played a single part in Steven Spielberg's 'Empire of the Sun.'"
The object of the ridicule in "Tropic Thunder" is narcissist Hollywood actors and the movie industry.
Stiller's comedy, however, does not touch on serious criticism. The movie jokingly ends with Tom Cruise's belly dancing being disguised in a bold fat man.
The R-rated movie contains sexual jokes and disturbing scenes such as a stomach being cut and the intestine coming out and hands and heads being cut rolling around. Those who are used to black comedy cannot help but laugh, but for those who are not could find it disturbing.
sohn@donga.com