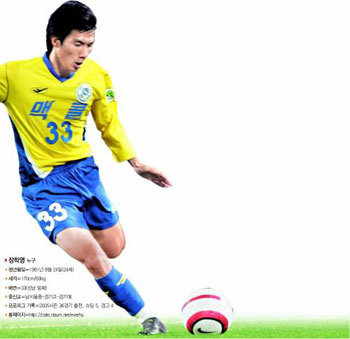 National team coach Dick Advocaat invited an underdog, 24-year-old Jang Hak-young from Seongnam Ilhwa, to participate in the national team's latest training camp.
Is he a diamond in the rough?
Jang has never been in the limelight as a soccer player. Last year, after graduating from Kyonggi Univeristy, he knocked on the door of Seongnam Ilhwa after failing the recruitment tests of other pro clubs.
When he attended Seongnam Ilhwa's winter training camp last January, he had not even secured a trainee contract. Ahn Ik-su, the coach assigned to Jang at the time, recalled: "He was quite daunted by the setback in his career in soccer, and we seriously discussed whether he should quit playing all together."
Ahn told Jang at the time, "If you get out of this room now and have zero regrets, you're ready to quit." Jang did not quit and became a trainee who gets paid a monthly wage of 800,000 won.
Standing 170cm tall and weighing 63kg, Jang's physique did not leave much of an impression during the club's entry test, but he made up for it with his hard work. Seongnam noticed his speed and stamina, and reassigned him from midfielder to side attacker.
Jang finally made Seongnam's roster with annual salary of 40 million won, and went on to attract the attention of Advocaat. Jang's playing position overlaps Lee Young-pyo's (Tottenham Hotspur). Jang is eager to learn from the upcoming training camp and make this opportunity into a turning point in his career.
"I would like to thank the coaching staff of Seongnam Ilhwa and Mr. Advocaat for believing in my ability and giving me a chance. My job is to work hard and not let them down. My willingness to learn is what I bring to training camp," said Jang.
Won-Hong Lee bluesky@donga.com