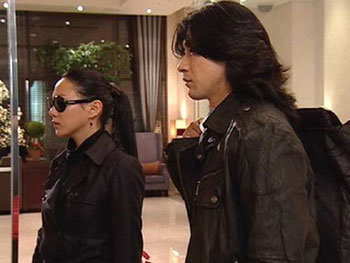 When you conjure up images of killers from movies and television dramas, you'll find that they are generally simpletons. These killers, who go to the most humanely possible extreme of extremes, don't think much. Killers never busy themselves with questions like, "Who was this person?" "Why kill this person?"
Their thought processes seem simple: "You're dead meat."
Some murderers, contrary to their killing prowess, however, have a child's wide-eyed innocence about them, like Kang Dong-won(24) in movie "Duelist," and Jean Reno(57) in "The Professional."
What happens when a killer meets a killer and falls in love?
On December 17 at 11:45 p.m., MBC Best Theater will air "May, June," portraying the heartrending love of killers. This drama was made by Park Jae-beom who produced the MBC drama "Resurrection-NEXT" that finished in June, 2005, and writer Do Hyeon-gyeong who received the honorary Gold Nymph at the 44th Monte Carlo TV Festival (2004) for his MBC Best Theater show "Neup."
May, who witnessed her parents being gunned down as a child, immigrates to another country to grow into a killer. June, who was also raised abroad as an assassin and returns to Korea to fulfill a mission. Coincidentally, they stay at the same hotel. Proper and neat May, and genial, laid-back June: they are different in appearance and personality, but both are skeptical about their life as killers.
As their meetings grow frequent, an interest is sparked, although their professions are kept secret. May and June now have their last task ahead of them. They promise to leave on vacation after their assignments are completed, but the promise is tragically broken.
Park Ye-jin (24) plays cold-blooded attractive killer May, while singer Shin Sung-woo (37) is cast as the free and unaffected June, with a "seemingly bright but hurt" mood.
zozo@donga.com