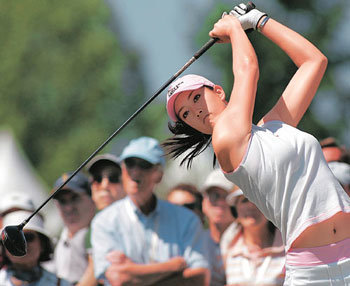 "Long driver" Michelle Wie (15, Korean name: Wie Seong-mi) has a tight schedule this summer. A 10th grader at Hawaii's Punahou School, Wie, unlike her classmates, has no time for play. She's too busy competing in various golf tournaments in Europe and the U.S.
After playing in successive U.S. men's pro and amateur tournaments, she is now in France competing in the Evian Masters tournament, being held at the Evian Masters Golf Club (par 72) in Evian-les-Bains. Next week, she will cross the channel to England, where she will play in the British Women's Open.
Because she takes such long and costly trips, she draws quite a few sidelong glances as well. Some charge that she may be receiving sponsorship from golf equipment companies or tournament organizers—something that is prohibited for amateur players.
According to the July 21 issue of USA Today, Michelle Wie's father, Wie Byung-wook (44, a professor at the University of Hawaii) received a phone call alleging the above from the United States Golf Association, during which he explained that he personally defrays all of his daughter's expenses.
Wie is expected to spend up to $100,000 in golf travel expenses this year. Her expenses in 2003 and 2004 amounted to some $50,000 and $70,000, respectively.
Considering the high cost, it seems increasingly likely that Wie will turn pro in the near future. If she had been a pro golfer, she would have won $202,248 in the three majors she competed in this year. Because she was an amateur, she did not see a penny of that money.
Meanwhile, in the first round of the Evian Masters, which wrapped up in the early morning of July 21, Michelle Wie came in tied for 45th place with a three-over-par 75, despite being the focus of heated interest.
With Carin Koch (Sweden), Lynnette Brooky (New Zealand), and Marisa Baena (Colombia) leading the race (all tied at six-under-par), Korea's Christina Kim secured a tie for fourth place (four-under-par), while Lee Mi-na (trying for her second win in as many weeks) and CJ Kang (Korean name: Kang Ji-min) both ended the day in 16th place.
Annika Sorenstam (Sweden), out for her seventh win of the season, finished the first round tied for 23rd place alongside U.S. Women's Open champion Birdie Kim (KTF, Korean name: Kim Ju-yeon), with a score of even-par.
Jong-Seok Kim kjs0123@donga.com