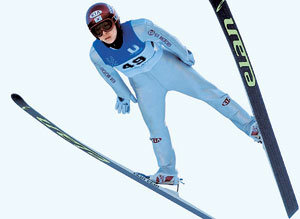 "The miracle of Tarvisio."
This was what people called the Korean ski jump team two years ago when the team won two gold medals at the 21st Winter Universiade in Tarvisio, Italy.
That was an aptly coined word in that Korea was not fertile ground for ski jumping at that time, with only seven registered players. However, after Korean skiers won a gold medal in the team competition, Kang Chil-gu received a gold medal in the K-90 individual event and a silver medal in the K-120 individual event. It was recently decided that this dramatic story would be made into a movie titled: "Jump."
Most of the ski jump team members who played in Tarvisio two years ago will attend this year's Winter Universiade in Innsbruck, Austria. Skiers like Choi Heung-chul, Kim Hyun-gi and Kang Chil-gu are old members who participated in Tarvisio, and Hyun Hyung-gu, a would-be national player, replaces Choi Yong-jik. (All of them attend Korea National Sport University.)
It is somewhat regrettable that Choi Yong-jik, an ace player, cannot join due to International University Sports Federation (FISU) rules that a player taking some time off from school is not allowed to participate in the Universiade.
Choi Don-guk (43), the national team coach, said in a telephone interview, "As Choi Yong-jik was the best performing player, his absence will bring some loss to our fighting power. Although Hyun Hyung-gu, a would-be national player, shows a bit lower level of skill, I expect other players to do well in the game, particularly because the ranking of a team competition is decided by the sum of three out of four players' scores."
The national team accumulated skills in a two-month overseas training program in Austria, Germany, and Slovenia in preparation for the Universiade. The also equipped themselves with advanced techniques which are a level higher than those two years ago.
Coach Choi said, "In the past, a popular technique in leaping was to quickly raise the legs toward the head. But recently it was reported that if you raise your toes too quickly while leaping, you will face stronger winter resistance. We focused on training which limits the angle of leaping by maintaining a consistent balance of the upper body line and position of knees."
The ski jump team will attend the K-90 individual event on January 13, the K-90 team competition on January 14 and the K-120 individual event on January 19.
Sang-Soo Kim ssoo@donga.com