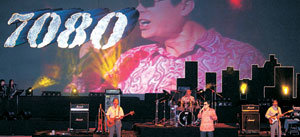 In 2004, Korean pop concerts were nourished on nostalgia.
The "7080 Concert"—featuring such prominent 70s and 80s stars as Locust, the Sand Pebbles, Linus, Gu Chang-mo, and Kim Soo-chul—won the fervent support of people in their forties and fifties across Korea. The nostalgia for the 70s and 80s was triggered by the New Year special of KBS1's "Open Concert," which aired on January 25 with a segment on "Bands of Days Gone By."
This served as the stepping stone for the first official "7080 Concert," brought to the stage on April 10 at the Sejong Center for the Performing Arts. The concert eventually toured the entire country, drawing some 160,000 audience members over 16 separate shows.
Pop music critic Lim Jin-mo described the success of the "7080 Concert" as an instance of "the established generation culturally striking back." Representative Hwang Gyu-hak of Culturepia, the company that produced the concert, attributed its popularity to "the thirst of forty-somethings who yearn for the memories and romance of their younger days."
A slew of similarly themed concerts followed the "7080 Concert," including the 70s and 80s folk music show "Concert for Nostalgia and Romance" and "Festival: Back to the Campus." Singer Lee Chi-hyun of the band Beotnimdeul (meaning "friends" in Korean) and Lee Soo-young of the Onions duo have both released new albums. The wave of nostalgia has spread to TV and radio broadcasts, as well as to concerts in genres other than pop music.
KBS1 has been airing a music program entitled "Concert 7080" since the beginning of the fall season. SBS also came up with a program called the "Romantic Concert" in October. Off the air waves, the musical "Mama Mia"—based on the songs of Abba, a popular Swedish vocal group from the 70s and 80s—garnered much attention from the older generations during its run from January to April.
Sun-Woo Kim sublime@donga.com