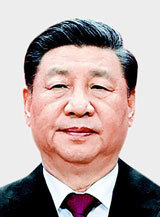 China's leader Xi Jinping was re-elected on Friday as president for another five years by the National People's Congress in a vote at Beijing's Great Hall of the People. He was unanimously elected with 2,952 votes. Xi Jinping has become the first Chinese leader in securing a historic third term since the founding of the People's Republic of China in 1949, which was impossible for Mao Zedong and Deng Xiaoping.
"I pledge my allegiance to the Constitution of the People's Republic of China, defend constitutional authority, and fulfill the duties assigned to me by law," Xi took his oath shortly after the results were announced. He was re-elected General Secretary of the party and chairman of the party's Central Military Commission at the 20th National Congress of the Communist Party of China last October, effectively beginning his third term in office. Xi took his constitutional oath on the same day, ensuring his term would last until March 2028. This completes Xi's "one-man rule," in which he controls the party, military, and government.
On Friday, the National People's Congress (NPC) also appointed other key state leaders, including Zhao Leji, No.3 in the party, as the body's head and Han Zheng of the "Shanghai clique," a group of people associated with former President Jiang Zemin, as the country's vice president.
Ki-Yong Kim kky@donga.com