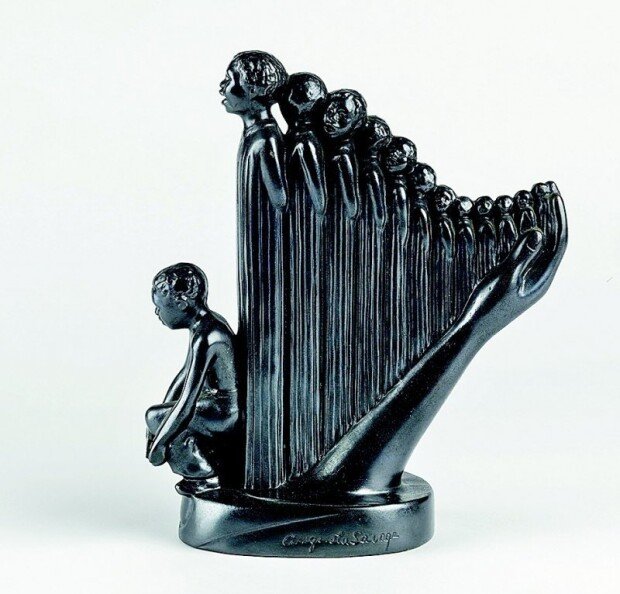 The history of discrimination and exclusion is nearly as old as the history of mankind. Art history has denied the existence of women artists for a long time. Along with the feminist movement in the late 1960s, there were a growing number of exhibitions/research shedding light on women artists that had remained unacknowledged in history. This was still limited to white female artists, excluding sculptors of color.
Augusta Savage was a sculptor known for being a "pioneer" in many aspects. In 1939, she became the first African American female to found her own art museum and the only African American female artist whom the New York World's Fair in 1939 commissioned to create a sculpture. Savage exhibited a harp-shaped plaster sculpture of African American singers. This work was inspired by the poem "Lift Every Voice and Sing" by James Weldon Johnson. The poem was first recited by 500 students in 1900 and created into a song and cherished by the Black community like an anthem. The song reflects a yearning for a world without discrimination and the struggle for freedom.
The artist's life was full of constant struggles. She was accepted to a French art school on full scholarship, which had been revoked because of her skin color. She was acknowledged for work as a sculptor but always remained poor. She had to coat her plaster sculpture with shoe polish to appear like bronze because she had no money to create a bronze sculpture.
Her plaster sculpture "The Harp" (1939), which was 4.8 meters tall, had been recreated into numerous miniature copies (photo) and postcards that became very popular. However, the original sculpture was destroyed as soon as the fair ended. It was treated as a temporary structure built for the event.
Savage was re-acknowledged for her work in the 21st century. In 2001, the State of New York listed her house and atelier as historical sites, and a public arts school named after Savage opened in 2004. Her name was again remembered when a retrospective exhibition in New York titled "Renaissance Woman" was held in 2019, and she was listed in the 2022 Venice Biennale.