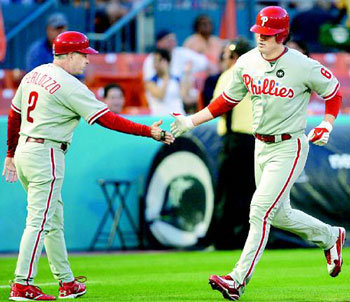 Against the host Florida Marlins Saturday, pitcher Park Chan-ho of the Philadelphia Phillies hit a solo homerun with one out in the top of the third inning.
His score helped the Phillies win 6-4 in 10 innings despite Park giving up four earned runs in seven innings for his third no-decision of the season.
The homer was also the third of Park's career and first in eight years and seven months. Over his 16 seasons in the U.S. league, he has hit .181 with 76 hits in 420 at-bats with 27 runs and 31 RBIs.
Park is not the only pitcher to do well both on the mound and in the batter's box. American homerun hero Babe Ruth, who sent 714 balls over the fence in his career, was also a first-rate pitcher early in his career, going 47-25 in 1916 and 1917.
In 1916, Ruth even had the lowest earned-run average with 1.75.
The American League adopted the designated hitter system in 1973 to promote aggressive baseball, but the National League, to which the Phillies belong, and Japan's Central League still require pitchers to bat.
The U.S. league gives the Silver Slugger award to the top hitter at every position every year. The National League, which has no designated hitters, selects the best hitting pitcher every year.
Last season, the Chicago Cubs' Carlos Zambrano won the award in the National League by hitting .337 with four homers and 14 RBIs.
Mike Hampton of the Houston Astros was also selected the top hitting pitcher for five straight years from 1999. He has hit .240 with 15 homeruns and 73 RBIs in his career.
Tom Glavine of the Atlanta Braves and Dontrelle Willis of the Detroit Tigers are also pitchers who are also good hitters.
Among pitchers in the Korean league, Bong Jung-keun, who played for two teams in the U.S. National League, is 0-11 at the plate. Kim Byung-hyun has had few chances to hit because he was mostly a closer when playing for the Arizona Diamondbacks, going .124 with 19 hits from 153 at-bats.
Lim Chang-yong is also in the bullpen for the Yakult Swallows in Japan's Central League, and thus has had little chance to bat.
The Korean league has had the designated hitter rule since its launch, but more than a few pitchers have gone to bat. LG Twins manager Kim Jae-bak, Korean Baseball Association executive Choi Dong-won and former national team manager Kim Sung-han were all former winning pitchers who also showed magic with the bat.
why@donga.com