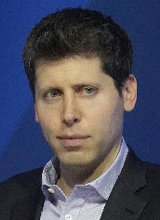 Sam Altman, CEO of OpenAI (pictured) and a founding member of Chat GPT, has been fired from his position. Some interpret this as an eruption of conflict over the development and safety of artificial intelligence (AI) technology, viewed as the 'largest corporate coup' since Apple's board of directors fired Steve Jobs in 1985.
"We lack confidence in his abilities to continue as CEO. He was not consistently candid in his communications," said the Open AI board of directors in a statement on Friday (local time). According to the Financial Times, Altman had been at odds with the board on AI's stability and pace of technology development. Some say his preparations to build a new AI start-up impacted the decision.
Altman, who had been participating in the CEO event of APEC held in San Francisco the previous day, received a text message in the evening to attend a board meeting and was removed the following day. Microsoft, Open AI's largest investor, was notified a few minutes before the announcement.
empty@donga.com