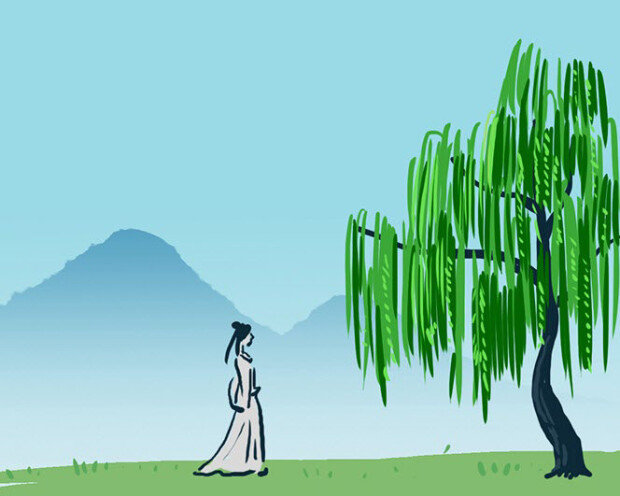 Would willows in Xian still be dyed green? If leafy willow branches gracefully drooped just as usual, they would have already been broken. As an advisor to the regional military governor in Liaoning Province, the poet was desperate to hear any news about the capital city left in the chaos following the An Lushan Rebellion. He wished to know how the willows were doing but only felt unsure.
Part of him wanted to believe that the willows would stay green, but at the same time, he worried about that greenness putting them at risk by luring people to their beauty. What led the poet to feel anxious merely about this little willow stuff? It is all about his lover, whose surname was Ryu – meaning willows. The poet tossed and turned every single night, worrying about the lady left alone in the devastated city. Around then, Ryu was taken by Shali, a commander of the Barbarians who came to help quell the rebellion, while she hid in a temple disguised as a monk. The poet wrote a poem to his lover despairingly but hopefully – right between the deep despairs and a dim lay of hope.
Then, how would the woman respond? "In the season of various kinds of fragrant flowers, regrettably, the willows always represent a goodbye gift. When a breeze blows in fall with willow leaves fluttering and falling, even you find no worth." In her words, willows are particularly alienated from other flowers and plants. What's worse, once dried, their leaves will unlikely appear attractive to anyone. Unlike this despairing woman, the poet did not give up but asked his supervisor to get help from Emperor Dezong. Finally, they could reunite. Various novels and literacy books have covered their love story based on historical facts and events.