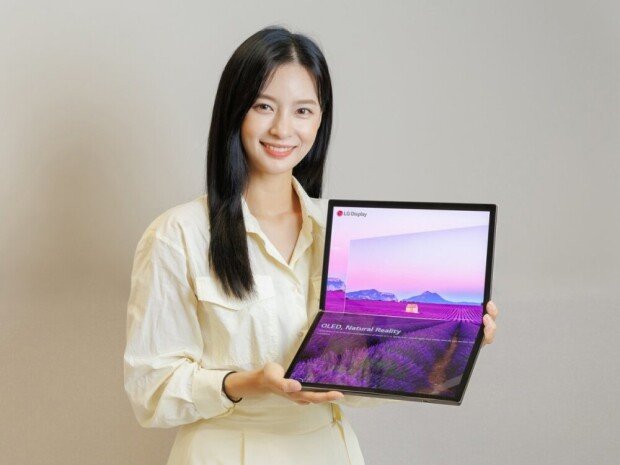 LG Display has started mass-producing OLED panels designed for 17-inch foldable laptops. the company on Sunday, expanding its line-up following OLED panels for 13.3-inch foldable laptops mass-produced in 2020 for the first time in the industry.
OLED panels used for foldable laptops are updated based on the "tandem OLED device structure," which characterizes LG Display products, to lengthen a display lifespan. First invented by the South Korean manufacturer in 2019 in the display market, the tandem OLED device structure builds two organic light-emitting layers, enhancing a lifespan and brightness. As energy applied to OLED devices is dispersed, the structure makes operational time more stable and longer. The company has used the independently developed structure to vehicle OLED products.
Unlike the existing foldable panels, the new development, made from special materials, minimizes folding creases. With the in-folding type allowing the screen to bend inward, the curvature of the folded part is decreased to 3R – that of a circle three millimeters across the middle – making sure that the display looks as if the upper and lower sides hung to each other closely.
The display panel technology is available for 4:3 17-inch portable monitors or tablet PCs. With adjustments to be made to the folding degree, 3:2 12.3-inch laptops can also adopt the system. It has a touch screen feature with fingers or pens.
will@donga.com