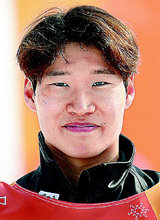 Korean snowboarder Lee Sang-ho (Nexen Tire, Photo) won the first medal of the 2022-2023 International Ski Federation (FIS) Snowboard World Cup season.
Lee finished in second place behind Benjamin Karl (Austria) in the men's parallel slalom final at the World Cup held in Blue Mountains, Ontario, Canada on Friday. It is his first medal of this World Cup season, marking his first World Cup medal in 10 months since winning the bronze at Berchtesgaden, Germany in March 2022.
Until the latest tournament, his best performance in this World Cup season was a ninth-place finish at the Winterberg championships in Germany, which was the first match of the World Cup held in December 2021. As a 2018 Pyeongchang Winter Olympics silver medalist, Lee has earned one gold medal, five silver medals, and four bronze medals in his World Cup career.
Lee, ranked 14th in the world, recorded 1:16:94 in the preliminary round competing against 48 players and advanced to the round of 16 with a time of 1:16.94. He defeated Zan Kosir (Slovenia) by 0.42 seconds in the round of 16 and Alexander Payer (Austria) by 0.1 second in the quarterfinals and advanced to the semifinals. In the semifinals, he advanced to the final by 0.47 seconds ahead of world number seven Oskar Kwiatkowski (Poland). Due to his late start in the finals, he deviated from the course while trying to speed up at the 6th gate in front of the finish line, failing to finish. Kim Sang-gyeom (High1), who competed together, ranked 24th.
After the match, Lee said, "I have not been performing well this season, but I achieved good results because the Korea Ski Association and Lotte group supported me until the end. I will do my best to win the gold medal at the World Championships." The World Championships for this season will be held in Georgia starting Feb. 19. He is scheduled to compete in the parallel giant slalom on the day, the parallel slalom on Feb. 21, and the team event on the following day.
leper@donga.com