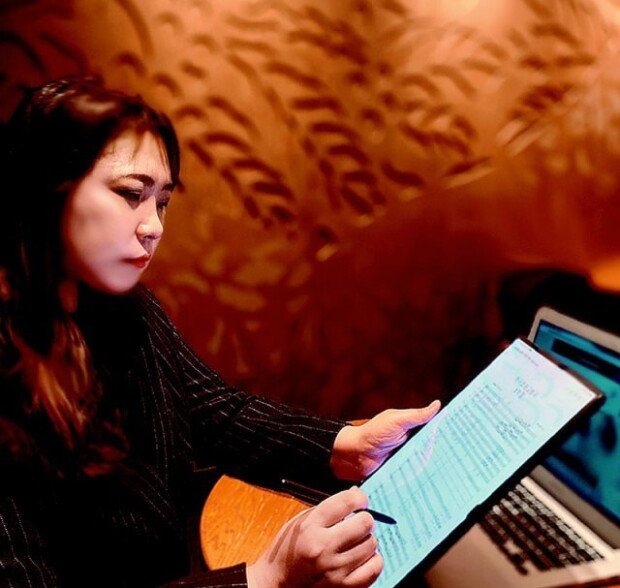 In celebration of the 50th anniversary of the National Chorus of Korea, its composer-in-residence Han Ah-reum will have a premiere of "Korea Choral Symphony" with a large-scale group of choirs and orchestras and four solo singers on stage. Directed by art director Yoon Eui-joong, the performance will be held at the Concert Hall of Seoul Arts Center on March 21 in concert with the National Chorus of Korea, Gwangmyeong Municipal Choir, Dongducheon City Choir, and Gwacheon Symphony Orchestra. Soprano Choi Jung-won, alto Yang Song-mi, tenor Kim Hyo-jong, and baritone Kim Dong-seop are the four soloists to perform. The Dong-A Ilbo talked to Han on the phone.
- We were told that you came up with the idea for this great song.
"This piece intends to weave the threads of our beautiful history, poetry, music, and ancestors' wisdom into music. It originally started with "Arirang Fantasy," which was played along with the National Chorus of Korea last December."
- Tell us about how the song develops.
"Starting from the 1st movement, the "Arirang" melody serves as a motive that puts the whole music together. The second movement focusing on the chorus is inspired by Kim So-wol's "Azaleas" and Yun Dong-ju's "Prelude," giving way to an orchestral performance of various Arirang songs, including Miryang Arirang and Jindo Arirang in the 3rd movement. The 4th movement is a solemn finale where I was inspired by Dosan Ahn Chang-ho's speech and the part "The Country I Want" from Baekbeom Kim Gu's "My Wish.""
- It has been the case that contemporary pieces are not often performed but forgotten soon if they have a patriotic or commemorative message.
"I made sure to apply some musical grammar, which is neither familiar nor light, to the song. You will be fascinated by the musical communication between the orchestra on stage and the brass on the balcony. I arranged songs that can be independently performed in the same movement or be separately done on a movement basis."
gustav@donga.com