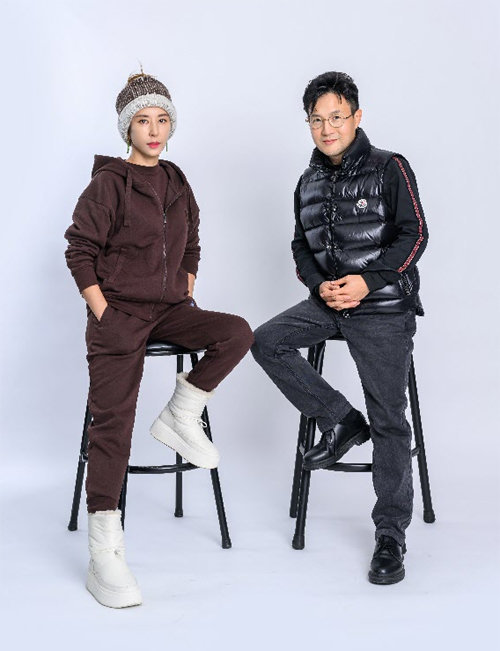 As the saying goes, artists never age. Kim Wan-sun (age 54) and Park Nam-jeong (age 57), who led the era of 'visible music' 30 years ago, will hold a joint performance titled "Being there" hosted by the Mapo Culture Foundation. This will be the first time the two singers perform together in seven years.
Kim replied that she wanted to "find my original self," while Park said he "didn't want to remain complacent" when asked what was on their minds lately.
Kim has continued to make new songs releasing her single "Apple blossom" last year. She is planning to release a new single this year as well. She has been painting for around ten years as her hobby and made her debut as an artist by holding a "Here I am" exhibition last year. "In the past, I focused on what was planned for me," she said. "Into my fifties, I decided I should find my original self."
In the upcoming performance, Kim will perform six songs, including hit songs such as "The Fine Day," "Dance in the Rhythm," and "Masquerade," as well as recent songs, including "It's You" and "Apple blossom."
Park, who has continuously performed on events of smaller scale, will be holding more concerts this year. "It has been decades since I performed exclusively at large stadiums," said Park. "I hope that if I start to perform before smaller audiences of 100-200 people, one day I might be able to sing for two hours before thousands of people again," said Park. He said he was paying more attention to his health these days, joking that "the body is like cash, so if anything goes wrong, the business closes down." He will be performing six songs, including "Oh Woman," "Days of Rain," "With Lone," and "Crash of Love."
The love of fans is what kept these singers going. Park said he was moved after attending a fan meeting of 100 fans last year, saying, "I was touched that there are people who remember me. I shouldn't let them down." Kim says that long-standing fans are like family now. "We are so close that I can't imagine my life without them. They're my best friends, and they drop by my house," she said.
The concert will be held at the Mapo Art Center at 8 p.m. on Jan. 18. Tickets sold for 30,000 – 50,000 won.
beborn@donga.com