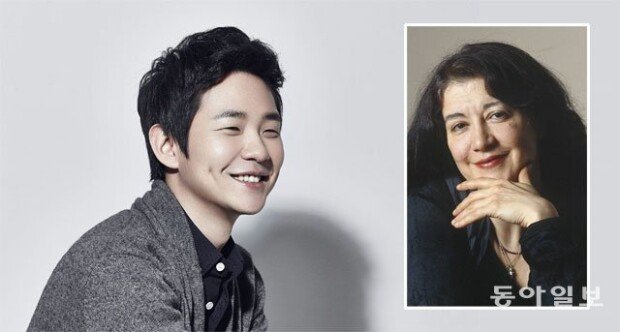 Lim Dong-hyek, the South Korean pianist, released his Rachmaninov Piano Concerto No. 2 album on Warner Classics. Four years ago, he put on a collaboration concert with BBC Symphony and Alexander Vedernikov and issued a Chopin Preludes album, which was chosen as one of the Gramophone Magazine's Editor's Choice recordings, and this marks Lim first concert recording. The pianist also played Rachmaninov's Symphonic Dances for four hands with his teacher and sponsor Martha Argerich for his album.
Piano Concerto No. 2 is one of Rachmaninov's most popular works. His skills as the best contemporary technician are well demonstrated, with long and rich melodies and the sentimentality unique to the Russian composer deeply resonating.
Lim still boasts the intelligent and clinical precision that he showed off as teenager. The ability to interpret both lyrical and realistic sides of the work and mix them together with subtlety is his unique forte. In this aspect, Lim is much like his teacher Argerich. And the new album shows such a feature.
In the second theme of the first movement, he drops the speed of his piano. This offers a detailed glimpse into Lim Dong-hyek's rubato. The diminishing dynamics causes an uncanny tension. This intelligent interpretation makes the conversation with the strings even more vibrant, accentuating Rachmaninov's sentimentality. The same holds true in the slow theme of the third movement.
Symphonic Dances is the number that earned Lim and his teacher a standing ovation in their performance last Tuesday at Seoul Arts Center for "Beppu Argerich Festival in Seoul." After playing this in Hamburg, Germany last year, Argerich said her best lifetime performance of the Symphonic Dances was with "Limichenko," a nickname Argerich gave to Lim Dong-hyek."
Marking their concert in Seoul, the album was released first in South Korea on Tuesday. Global release is scheduled in mid-September. Last year, a constellation of young pianists such as Daniil Trifonov, Yevgeny Sudbin, and Denis Matsuev, presented their interpretation Rachmaninov's concerto album. Lim's new album will certainly make a different voice among many.
gustav@donga.com