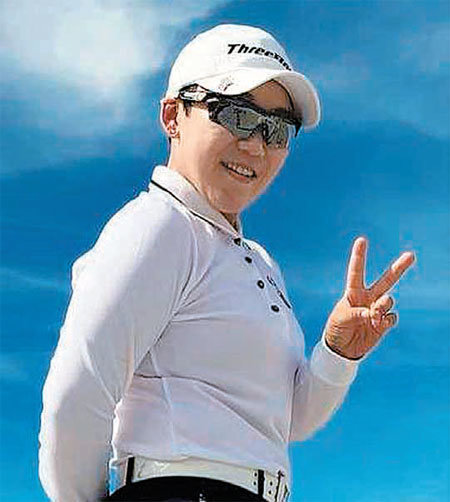 A taste that hasn't been allowed for a while tasted as sweet as a win. South Korean golfer Shin Ji-yai had a small party at a French restaurant in Tokyo, Japan on Sunday. It was her birthday and she got to enjoy some cake and Coke after not two weeks of avoiding them following her come-from-behind victory with a gap of seven pars at the Japan LPGA's Fujisankei Ladies Classic, Kawan Hotel GC (Fuji).
Shin has been avoiding wheat flour, fried or fatty foods and eating high-fiber, high-protein diet during the tournament season to maintain the best form. Wheat flour or fried food are not easily digested, which makes one's body feel heavier. She also only enjoys almonds, walnuts, roasted legumes, etc. between meals. "Sweets and soda are only allowed as treats when I score a no-bogey round," says Shin with a smile.
Such strong self-discipline has enabled her to play her best golf in her 30s, which usually means that there are only a few years left in a Korean female golfer's career. Shin has already won twice this season on the JLPGA tour and is ranked No. 1 in prize money (420 million won). She was ranked in top 6 for all five tournaments of this season.
"Earning two wins of a season in April is the first after I started playing in Japan. I'd like to continue the good form," says the Korean golfer. She was somewhat known as a slow starter, whose wins come after May. During her first training in Vietnam in January, Shin had always been the first to arrive the training site among 10 other golfers in their early 20s.
This highly motivated version of her has achieved the highest ranking in key metrics, including the average number of strokes and bounce-back rate (32.3%). Shin also boasts a remarkable ability to recover by scoring better than par right after she scores worse than par. Such an ability to keep herself calm and focused through ups and downs is one of the factors driving her to become a prize-money queen.
Jong-Seok Kim kjs0123@donga.com