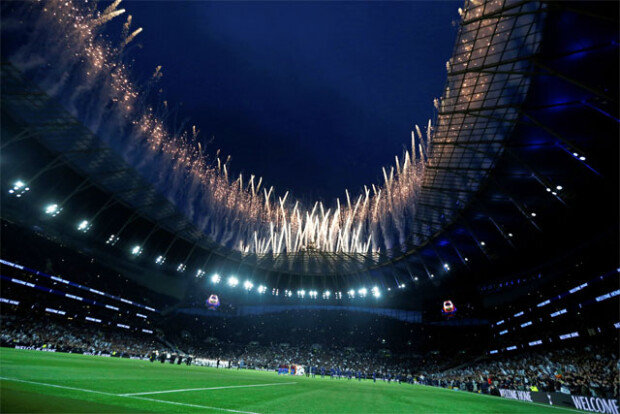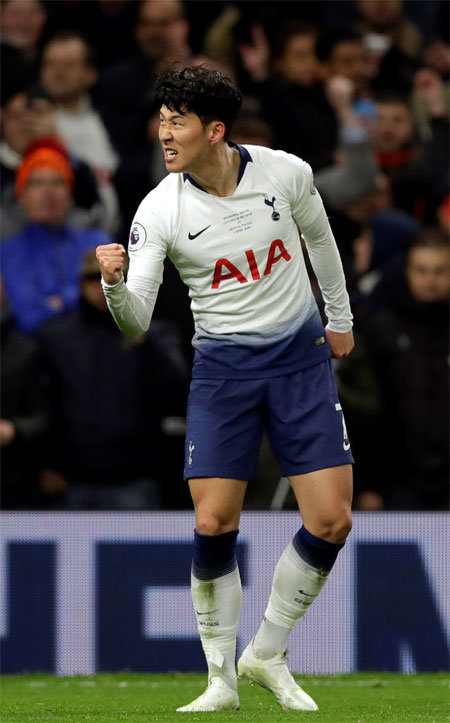 Tottenham Hotspur's South Korean forward Son Heung-min scored the club's first-ever goal at their new home stadium. On its social networking account, the club called Son a "history maker." The South Korean, who promised to make history at the new stadium, has kept his words.
Son became the first player to score a goal at Tottenham Hotspur Stadium in London on Thursday (Korean time) after he hit the net against Crystal Palace in the 55th minute with his left foot in the English Premier League's 31st round. Receiving Eriksen's pass, Son cut in from the right flank to the center and unleashed a left-footed strike inside the box. The goal was his 12th in the league, and the 17th this season, and the first in seven games this season since the first match of the UEFA Champions League semifinals. Eriksen scored a decisive goal in the 80th minute to end the club's five-game streak of no wins (one victory and four losses). Whoscored.com, a soccer statistics website, gave 8.5 points to Eriksen for one goal and one assist, and 8.4 to Son. Having earned three additional victory points, Tottenham regained their third spot in the league that they had lost to Arsenal.
The Tottenham Hotspur Stadium is also referred to as New White Hart Lane, as the club's previous stadium, which opened in 1899, was called "White Hart Lane." While building the new stadium, Tottenham had used the Wembley Stadium as its home since last season. The new stadium, which can accommodate more than 62,000 people, was originally scheduled to open last August, but its completion was delayed due to safety issues. Before the official opening of the new stadium, the club ran two test matches. The new stadium is the second-largest one in the league after Old Trafford, the home of the Manchester United with nearly 75,000 seats.
When Tottenham manager Mauricio Pochettino replaced Son in the additional time, fans gave a standing ovation to Son who was retreating to the bench. Son humbly said he was just lucky and that the day's victory would help the club during the rest of the season.
Seung-Kun Lee why@donga.com