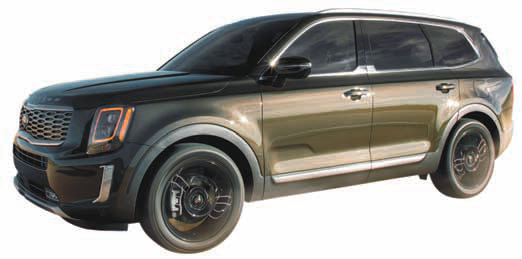 The sales of the Telluride, Kia Motors' large-sized sport utility vehicle (SUV) aimed at the U.S. market, have risen sharply despite a contraction in the U.S. auto market.
According to Kia's U.S. headquarters on Wednesday, the auto company sold 55,814 units in the U.S. in March, up 10.2 percent from the same period a year ago (50,645). The accumulated sales for the first quarter stood at 136,596, up 7.6 percent year-on-year, marking the highest sales since the first quarter of 2016.
Kia is enjoying a sharp rise in sales in the U.S. market thanks to the Telluride, which began its sales in March. A total of 5,080 Telluride were sold last month alone. The all-new SUV was designed and manufactured in the U.S. in order to aim the U.S. market, where the demand for big SUVs is high.
"We have achieved better-than-expected results as we targeted U.S. consumers, who favor large-sized vehicles," a Kia official said. Meanwhile, the Sorento, a representative SUV model of Kia, was sold 9,507 last month, up 18.4 percent from the same period of last year. The company is enjoying a rise in the sales of overall models as more and more consumers visit Kia dealerships to take a look at the Telluride. It has yet to be confirmed when the Telluride will be released in Korea.
Hyundai Motor is seeing an increase in sales as well. According to the automaker's U.S. headquarters, the sales rose by 1.8 percent year-on-year in March to reach 62,627. Its first-quarter sales increased 2.1 percent compared to the same period of last year. Its midsize SUV model Santa Fe was sold 10,929 and compact crossover SUV Tucson was sold 11,976 in the first quarter, taking up 36.5 percent of the overall sales. Hyundai's Avante, or Elantra in the U.S., was sold 5,008, up 60 percent from the last month. Thanks to a rise in sales, the market share of Hyundai Motor and Kia Motors in the U.S. has increased from 3.7 percent in January to 3.9 percent in March and from 3.3 percent to 3.5 percent, respectively.
bjk@donga.com