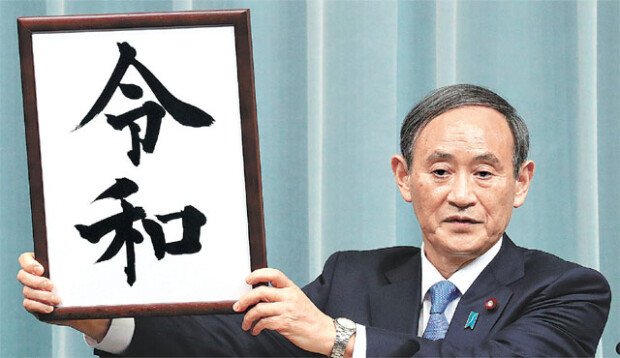 Japan has named its next imperial era "Reiwa" as Crown Prince Naruhito is set to ascend the Chrysanthemum throne on May 1, becoming the country's 126th emperor. The new name signals that all Japanese people would be able to achieve their dreams.
Chief Cabinet Secretary Yoshihide Suga announced Monday that Emperor Akihito's era Heisei (January, 1989 – April, 2019) will be succeeded by Reiwa. The new era will begin when Naruhito officially replaces his father at 12:00 a.m. on May 1. The Japanese government made an announcement a month early so that government offices and companies can make preparations to avoid glitches.
Reiwa, Japan's 248th era name, was taken from an old anthology of Japanese poems called the Manyoshu. Written in the 7th to the 8th century, the Manyoshu is a collection of the country's traditional poems recited by all walks of life from ordinary citizens to high-level officials.
Reiwa is not an exact word stated in the anthology, but the combination of two characters, which mean "auspicious" and "peace," respectively. The characters were taken from a poem about early spring that mentions an auspicious and good month, soft winds, plum blossoms, and sweet-smelling orchids. As it is a newly coined word, some express mild discontent with the new era name sounding alien.
"Just like plum flowers in full bloom that signal the arrival of spring after bitter cold, each and every Japanese person can hope for the future and make their own flowers blossom," Prime Minister Shinzo Abe said Monday. "The new name reflects hopes to build such a country."
This marks the first time that the new name was taken from an ancient Japanese source, instead of old Chinese texts. It can be also interpreted as the Abe government's acceptance of the conservatives' demands that they take an era name from ancient Japanese literature.
Japanese people have shown great excitement about the announcement of the new era name, with 460,000 people watching the live stream of the official Twitter account of the Prime Minister's Office. NHK also said that 210,000 people watched the announcement through YouTube's live streaming. Japan's newspapers such as Asahi Shimbun and Yomiuri Shimbun issued extra editions, and products on which Reiwa is written including candy and calendars also came out.
lovesong@donga.com