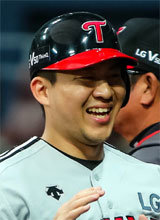 The scoring of the LG Twins is swayed by Kim Min-sung's performance at bat. Having conceded a 1-4 defeat to the Kiwoom Heroes in their first exhibition match on Tuesday, the LG Twins won a sweeping 8-4 victory against the Heroes the next day. Kim Min-sung, a former Heroes player to have recently joined the Twins, stood at the batter box as designated hitter in the back-to-back matches against Kiwoom.
The first game was a dud, but in Wednesday game, Kim sent a two-base hit deep into the left field corner for a single RBI and even stepped on the home plate thanks to the hit that followed on. It was a crucial play that left the Heroes much frustrated, who were chasing the visitors close from behind only one point.
In Thursday match against the Doosan Bears, Kim Min-sung made the starting line-up for the first time but failed to make any hit out of two times at bat, and the explosiveness of the Twins' hitting line-up was gone along with Kim's (LG lost 1-12 to Doosan).
Despite Kim's best effort for personal training, some people said it might take more time for him to recover his form as he had been depending on ball machines for his batting and defense training.
In the field, however, Kim boasted stable defense, with his contact skills gradually improving. "Still, it is rather difficult to time the balls thrown from a real pitcher, Kim said after the Doosan match. "During the exhibition matches, I will focus on recovering my instinct for timing."
Bae-Jung Kim wanted@donga.com