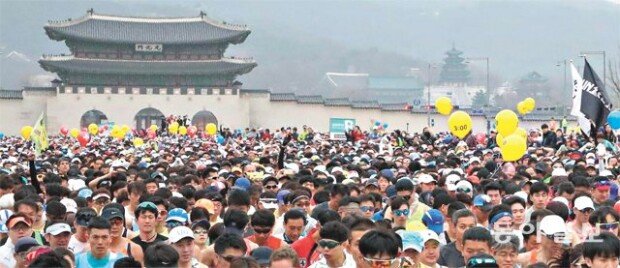 For a successful marathon race, sufficient intake of water is as important as having a great pace maker.
It was once commonly believed by marathon experts that marathon runners do not need water during a race since water increases the amount of sweat and therefore causes fatigue easily. This belief, however, is completely wrong. Even if they do not feel thirsty, marathon runners need to drink water at the right time in order to avoid dehydration. Our body loses electrolytes, such as sodium, chlorine, and calcium along with water, during a long race. Runners experience severe fatigue and muscle cramps if they are not replenished.
Then how much water is the right amount to take? Experts say runners need to drink water as much as they have sweated during a race. Although there are individual differences, one should drink three to four times in one hour to drink one litter of water in total. This is why there is a water station every five kilometers. Sports drinks are more effective than water in that they help replenish lost electrolytes and absorb moisture faster.
Dong-A Otsuka, the official sponsor of the 90th Dong-A Marathon/2019 Seoul International Marathon, is providing the biggest number of drinks for the competition, including 187,440 bottles of water "Mashinda," 64,160 bottles of sports drink "Pocari Sweat," and 24,950 bottles of vitamin drink "OronaminC." The industry's first double dotted line called, "Blue Label" on the bottle of Pocari Sweat makes recycling easier. Participants of the marathon competition will use more than 190,000 cups to drink beverages during the race or snack time.
Dong-A Otsuka, which celebrates the 40th anniversary of foundation this year, has been supporting Dong-A Marathon for the 11th consecutive year since 2009. It also grants the "Dong-A Marathon Runner of the Year" award every year for the development of marathon in Korea at grass roots level. It is running a training program called, "Running Crew Live Sweat" from last year. The company selects 50 people two times a year to provide them with professional training, such as basic physical training and individual coaching for 10 weeks. Fifty new people, who were chosen this month, will receive training until May, starting from participating in a 10-kilometer marathon this month. Next group of 50 people will be selected in September.
Seung-Kun Lee why@donga.com