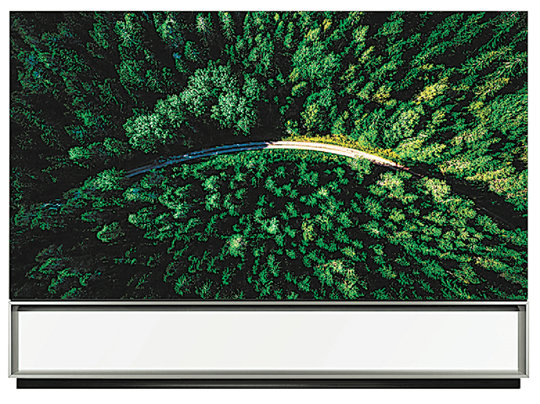 LG Electronics, a South Korean electronics giant, will showcase a fleet of new TV products at International CES 2019, which will take place in Las Vegas, the United States next week. Holding the brightest limelight among them is LG's 88-inch 8K OLED TV. Last September, a prototype was rolled out through IFA 2018 in Germany, but this marks the first time that an 88-inch 8K OLED TV is displayed in the form of mass production.
LG Electronics will introduce a new AI television with the second-generation Alpha 9 processor embedded in it. The Alpha 9 Gen 2 processor, LG's proprietary technology, will be installed not only in 8K televisions but also in 4K OLED TVs. The intelligent processor was developed through a convergence between LG's Alpha 9 processor and a deep-learning algorithm that analyzed more than one million image data. "The new technology will help realize clearer and more realistic definition by removing blemishes on the screen," the company explains.
In addition, voice-based AI has been enhanced significantly. Previously, LG featured Deep ThinQ, a LG's proprietary AI platform, and Google Assistant, the search engine giant's AI secretary, for its TV lines, and this year, the company will introduce smart televisions with Amazon Alexa for the first time. This will allow consumers to enjoy various Amazon services such as shopping or audio books with LG televisions. The remote controller will feature a button for "Amazon Alexa", and consumers can push this button and use the company's services with their voice such as by asking it to order a winter coat on the instant.
Tae-Ho Hwang taeho@donga.com