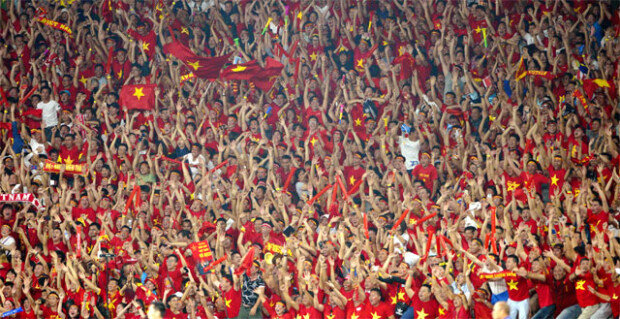 Eyes are on the Vietnamese national football team once again as the team is now one step closer to winning the Suzuki Cup under the leadership of South Korean coach Park Hang-seo.
Vietnam drew 2:2 with Malaysia in the first leg of the AFF Suzuki Cup final held at the Bukit Jalil National Stadium in Kuala Lumpur, Malaysia on Tuesday. The two away goals gave Vietnam a leg up against Malaysia as the team with more away goals gets an advantage if the two teams have the same winning point. If the two teams draw 1:1 or 0:0 in Saturday's match in Hanoi, Vietnam, Vietnam wins the Suzuki Cup.
Expectations are high for the Vietnamese football team in their home country. According to a Vietnamese media VN Express, Vietnam's national broadcast VTV is selling 30-second commercial slots for the final match at 950 million dong (over 45 million won) per slot. This is higher than 800 million dong for the finals of the 2018 World Cup Russia. Coach Park's leadership is drawing attention in Korea as well. According to SBS Sports, which is broadcasting the competition, the first leg of the finals received the viewership rating of 4.706 percent, the highest figure among all sports programs aired in cable televisions this year.
Some 80,000 tickets for the first leg of the finals held at the Bukit Jalil National Stadium were sold out. Among them, 40,000 tickets that were sold online were sold out in 30 minutes. Malaysian Prime Minister Mahathir Mohamad joined the big crowd in Tuesday's match. More people are expected to gather in Hanoi for the second leg of the finals. The My Dinh Stadium can accommodate up to 40,000 spectators. Although the number of spectators will be less than that of Tuesday's match, the crowd is likely to ardently root for their team. "I was worried about playing in front of the 80,000 home crowds in Malaysia," coach Park said. "I hope Vietnamese fans would do the same to Malaysia in Saturday's match."
Coach Park remains calm and cool-headed. "We didn't lose in the enemy's territory. Now we can contend for victory at our home," he said in an interview after Tuesday's match. "But we lost many chances in the second half, which was disappointing. We'll have to prepare well for the second leg." He seemed to be more cautious with the team's victory just around the corner.
"Coach Park worked his magic again against Malaysia, which fielded its best players," said Vietnamese media. "Nguyen Anh Duc will play in the second leg," the Korean coach said. "I expect a lot from him as he has rich experience and scoring ability."
Malaysia scored its two goals from free kicks at Tuesday's match. "Our players committed fouls when they didn't have to," Park said. "I'll change the defense formation so that our players won't make fouls near the net."
Yun-Cheol Jeong trigger@donga.com