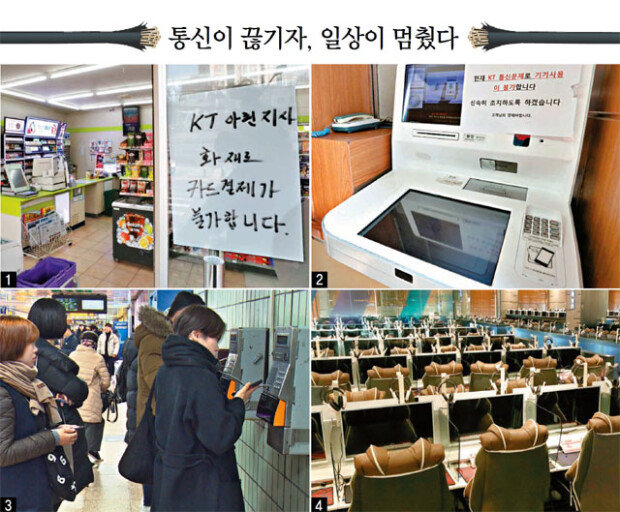 Only a single building caught fire, but it had devastating impact across Seoul during the weekend. Fire broke out Saturday at KT's Ahyeon-dong branch, which is in charge of the central and western parts of Seoul. The accident disabled communications across six districts in Seoul – Mapo-gu, Seodaemun-gu, Yongsan-gu, Jung-gu, Eunpyeong-gu and Yeongdeungpo-gu – and some parts of Goyang city in Gyeonggi Province. Residents in these areas experienced inconveniences early Saturday morning. TV did not work and Internet access was unavailable. What's worse, mobile phones and credit card readers were out of order. It has left the self-employed and delivery men with immeasurable losses.
Next day, the main feeds of major portal websites and social media were covered with numerous posts regarding such unpleasant experiences. A notice was taped on the wall of stores, which writes "cash-only." Some rushed to withdraw cash. They had to find ATMs that are not on KT's networks. On the weekend with the first snow of the year, others got baffled when their mobile phones did not work while waiting for their friends on the streets of Sinchon and Hongdae. Internet cafes and gaming rooms had no option but to close.
The fire accident occurred just a week before 5G telecommunications waves are to be transmitted for the first time. It was a wake-up call to warn that advancement in Internet technology will be rendered useless if safety is not guaranteed. In a hyper-connected society where people and objects on the planet are connected on networks, self-driving cars and smart factories will be hit hard by such network problems, which can involve casualties. It was turned out that the Saturday fire paralyzed some parts of the police's communications networks and only a fire extinguisher was placed without any sprinklers around the cable tunnel. As such, it is urgent to complement additional measures in case of emergency.
It will take some time to fix connection impairments and compensate for damage even though the government, Seoul City and KT have started to work on the accident. Service quality can be lowered due to the use of alternative networks before the damaged ones get back completely on track one week later.
Dong-Jin Shin shine@donga.com