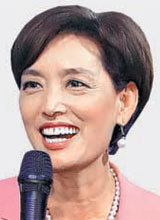 "I am a roly poly. It seems like I've fallen down for the time being but I will rise up immediately. I will not get disappointed and I will start again."
Young Kim was looking to become the first Korean-American woman in the U.S. House of Representatives (California's 39th Congressional District) at the U.S. midterm elections on November 6. The voice of candidate Young Kim (age 56, Republican), who lost narrowly, was calm yet full of energy. At the press conference held in the form of a conference call on Tuesday (local time), Young Kim remarked that she was sorry for not being able to expectations but she did her very best and that this became an opportunity to show the ability and potential of a Korean candidate despite multiple setbacks.
While counting the votes on the following day of the election, Kim was on the lead and appeared to be winning Democrat Gil Cisneros by 2.6 percentage points. Young Kim, however, was defeated by 1.6 percentage points behind at the last moment as postal ballots came in. Although she felt sorry about the result, she urged people to think that the Democratic Party won the fight between Republican Party and Democratic Party rather than to think that Young Kim was defeated.
With respect to allegations of foul play by her competitor during the process of counting postal votes, she commented calmly that it is important for more people to participate in elections and acknowledged the result. She accordingly admitted her defeat, stating that she did not want to say that a foul play that changed the result of the elections took place.
rocku@donga.com · lightee@donga.com