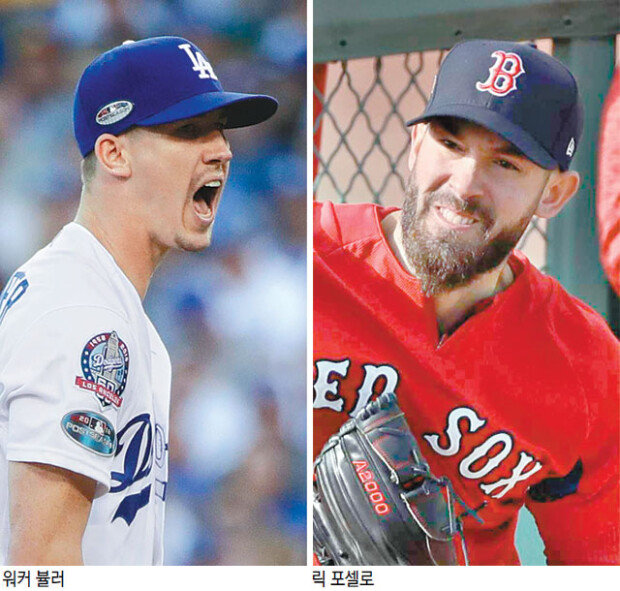 Game 1 of the World Series between the Boston Red Sox and the Los Angeles Dodgers grabbed public attention particularly through a duel between Chris Sale (Boston) and Clayton Kershaw (Dodgers), the best left-handers from the two leagues. However, the two pitchers were both replaced in the fifth inning. Kershaw gave seven hits and five runs during four innings, while Sale gave five hits and three runs during four innings," failing to live up to their reputation.
There were only three times in the history of the 113 past World Series in which the starting pitchers of the rival teams only pitched for four innings. As the two starters failed to sufficiently play their roles, a total of 12 pitchers (seven for Boston and five for Dodgers) took the mound to pitch in Game 1. "The starting pitchers' failure to play long innings is a bad thing for marketing," Major League Commissioner Rob Manfred expressed his concern ahead of Game 2 on Thursday. "Their lackluster performance will clearly affect negatively." In this light, this year's World Series deserve to be called "Bullpen Series."
The two teams deployed bullpen pitchers (Nathan Eovaldi, Eduardo Rodriguez, Rick Porcello for Boston; and Alex Wood, and Maeda Kenta for LA), who mostly played as starters during the regular season ahead of the post-season. Kershaw (World Series Game 1 against Huston) is the only pitcher who pitched for seven innings or longer in a World Series over the past three years, when he set the record last year.
Boston's Porcello, who will start in Game 3 on Saturday, was a bullpen pitcher in Game 1 of the Division Series (no run during two thirds of an inning), starter in Game 4 (no run during five innings), bullpen in Game 2 (no run during one inning) in the Championship Series, and starter in Game 4 (four runs during four innings), as he has continuously carried out diverse activities. As for Dodgers, rookie Walker Buehler will seek the first win of his team, which suffered two consecutive losses, and his own first win as a starter in the post-season.
Bo-Mi Im bom@donga.com